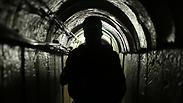 Hamas terror tunnel (Photo:Reuters)
Photo: Reuters
The US stepped up its security cooperating with Israel on Wednesday, pledging $40 million on research and development to find a solution for cross-border tunnels.

An amendment passed by the US House on Wednesday views cross-border tunnels as a threat to America and its allies all over the world. Since 2009, over 150 tunnels have been discovered on the US-Mexico border. The tunnels were most likely used to smuggle illegal immigrants and drugs. Tunnels have also been used to attack US military personnel in South Korea.

Israel is already conducting research and development in the field, largely due to Hamas' prevalent use of tunnels during last summer's war in Gaza.

The US has diverted tens of millions of dollars from the Pentagon budget in order to deal with what security officials are calling a "criminal and security threat".

The cooperation between the countries is supposed to be similar to the joint work conducted on other programs, like Israel's missile defense systems.

Related stories:

In addition to funding research and development, Congress passed an amendment to the US intelligence budget on Wednesday, binding the American intelligence services into collecting information on criminal and terror tunnels.

New York Congressman Steve Israel, who initiated the amendment, testified that tunnels leading from Gaza to Israel had served to support terror attacks and kidnapping.

The amendment requires the Director of National Intelligence, who is responsible for the US's 16 intelligence agencies, to submit a report detailing the threat posed by state and non-state actors in regards to tunnel warfare, and outline the scope of cooperation between the US and its allies on the matter. The legislation also calls on the intelligence chief to appoint someone to lead intelligence gathering and analysis on the tactical use of tunnels.

Ahead of the vote, Congressman Israel explained that he personally visited Hamas tunnels while on a visit to Israel. "These tunnels are not the tunnels that many of us characterize in our own minds, these tunnels are sophisticated, these are expressways underground, it's like the Queens-Midtown tunnel going from Gaza to Israel. They are ventilated, they are lit, they are massive, they are deep, they they are huge, they are impenetrable and they are very difficult to detect," he said.