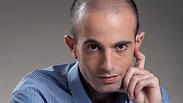 Yuval Noah Harari. 'Sometimes I'm still surprised by the book's success'
Photo: Ilya Melnikov
Israeli historian and author Yuval Noah Harari has received a big "like" and a lot of respect from none other than Facebook CEO Mark Zuckerberg.

In the beginning of the year, Zuckerberg declared 2015 the "Year of Books." As part of the initiative, he invites his followers to read a new book with him every two weeks and discuss it on his Facebook page. The latest book, "Sapiens: A Brief History of Humankind," which he shared with his followers on Tuesday, comes from Israel.

"This book is a big history narrative of human civilization – from how we developed from hunter-gatherers early on to how we organize our society and economy today," Zuckerberg wrote. "Following the Muqaddimah, which was a history from the perspective of an intellectual in the 1300s, Sapiens is a contemporary exploration of many similar questions. I'm looking forward to reading these different perspectives."

Zuckerberg also tagged author Yuval Harari's Facebook page in his post and added a link to the book's official page, which could definitely contribute to its sales, as the Facbeook founder has more than 32 million followers.

"Sapiens: A Brief History of Humankind" was a huge success in Israel and turned into an international bestseller thanks to its ability to summarize the significant processes which have taken place throughout the development of human culture in a clear and interesting manner.

"I am very happy of course," Harari told Yedioth Ahronoth on Wednesday. "Sometimes I am still surprised by the book's success, but I have already realized that it meets a real need of people around the world.

"We live in a global world. There are no longer independent states. There is hardly any country which can run an independent economic policy, foreign policy or even domestic policy. We could lose our jobs because of an economic crisis in China or because of a political upheaval in the United States."

Harari's second book, "The History of Tomorrow," was published several months ago and has also received rave reviews.