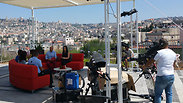 Filming a program in Nazareth
Photo: George Ginsberg
The Palestine '48 TV channel started broadcasting Thursday from Nazareth, while Prime Minister Benjamin Netanyahu has instructed the Communications Ministry to examine the channel's legality and see if possible criminal and bureaucratic measures can prevent it from airing.
The first program, which dealt with health issues, has already aired. The network's management is attacking Netanyahu for his instructions to the ministry, saying:"let him get used to the TV of the Arab droves," a reference to his election day statement that Israel's Arabs were coming out "in droves" to vote.
The Palestinian Authority's Communications Minister, Riyad al-Hassan, said Netanyahu wants to shut the channel down because Israel does not want there to be media outlets that show Israel's Arabs the explicit neglect they suffer.
He added that the channel was not political, but rather a tool to allow freedom of expression for residents, and that while he expected Netanyahu's opposition, no one could shut the channel down.
The Nazareth-based channel is supported by the Palestinian Authority. It currently has no studio and broadcasts from an open area in Nazareth. It will use the services of a mobile broadcasting unit, which will provide photos and editing materials.
"I was so excited," Afaf Shini, who hosted the first program, told Ynet. "We started getting very positive feedback on the program and the station. Two hours of fun broadcasting went by, but we did not feel the time pass. I hope to hear interesting comments and to learn from them. I prefer not talking about what Netanyahu said."
Channel operators chose to start broadcasting Thursday as that is when Ramadan starts. The show schedule includes artistic programs, series for children, holiday specials and prayers.
"The channel's launch is on a holiday. From our point of view, we finally have a stage and a television channel that speaks our language. We are very happy and hope for the best in terms of support. My program will host six opinion leaders such as journalists, actors, singers, etc., who will speak about everything except politics.
Israel responded harshly once news of the channel's preparations for broadcast came to light.
Netanyahu, who also holds the position of communications minister, instructed the director-general of the Communications Ministry to take any and all action within its purview, both criminal and bureaucratic, to stop the broadcasts.
"I am sorry that the Israeli government has decided to make statements of this nature," said Sanaa Hamud, a member of a panel which counsels the channel.
"I think the Israeli government must decide whether it wants to be among the enlightened nations or the uncivilized regimes."
From Hamud's point of view, Israel should thank them for establishing a channel for Israeli Arabs. "Until now we did not have a channel that allows us to discuss our issues, so Israel should praise something that did not exist before," she said.
"I think it's a step that raises a lot of questions. The content of Netanyahu's statements infringes on freedom of action and freedom of expression. We do not intend to instigate, to incite rebellion or to harm others, and certainly not to harm state security. If these proposals are into practice, we will be unable, given the legal means at our disposal, to counter them."
Jaafar Farah, director of Musawa Center for Arab citizens rights in Israel, harshly attacked Netanyahu's efforts. "After closing the local news stations, breaking down public broadcasting, and harassing Channel 10 and newspapers on a daily basis, Bibi is trying to prevent the sprouting of an Arab television industry," said Farah.
"After his 'droves of Arabs are going to vote' speech, he is closing the Al-Midan Theater, and will try to close human rights organizations in order to divert public debate from his economic and political failure.
"We wish 'Palestine 48' success, in the hope that Netanyahu will get used to the freedom of expression of the Arab droves. There are hundreds of channels, including those of Hezbollah and Iran that are picked up in Israel and, Bibi (Netanyahu) does not bother them."
Elior Levy contributed to this report.