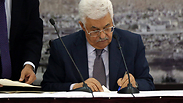 Mahmoud Abbas signing international treaties
Photo: EPA
The Palestinians will next week submit their first file to the International Criminal Court in their bid to open criminal proceedings against Israel, an official said on Thursday.

The move is part of an increased focus on diplomatic maneuvering and appeals to international bodies by the Palestinians, who have been frustrated by a lack of progress in peace negotiations.

The file is to be handed to ICC chief prosecutor Fatou Bensouda on June 25, and will detail alleged violations of international law by the Jewish state, Palestinian foreign ministry official Ammar Hijazi told reporters in the West Bank city of Ramallah.

On April 1, the Palestinians formally joined the ICC with the goal of trying Israeli leaders for alleged abuses during last summer's war in the Gaza Strip, and alleged crimes relating to the administration of the West Bank and East Jerusalem.

The file is "only general, it's only statistical", Hijazi said.

"But it certainly draws a grim picture of what Israel is doing and why we think that there are reasonable grounds... for the prosecutor to start (her) investigations."

It does not refer to specific incidents, but the Palestinians will submit such details in future if Bensouda decides to proceed with inquiries, he said.

Bensouda's office has opened a preliminary examination into Palestinian claims, starting from June 2014.

Earlier this year, as the Palestinians were putting their accession to the ICC in motion, President Mahmoud Abbas sent documents to the court authorizing the prosecutor to investigate alleged crimes that took place in Palestinian territories since June 13, 2014.

The unrest in June last year escalated to the summer war between Israel and Hamas, which killed about 2,200 Palestinians and 73 on the Israeli side.

Bensouda has also said she is weighing opening war crimes investigations into the Palestinians themselves, with groups such as the Islamist terror organization Hamas, which rules Gaza, potentially under the spotlight.

Among the more controversial events of the Gaza war was Israel's bombing of UN schools being used as shelters for the displaced.

Israel says it was forced to carry out the strikes because Hamas used them to store weapons or fire rockets at Israel.

The ICC, set up in 2002, is the world's only permanent independent body to try the most serious crimes of concern to the international community.