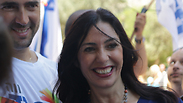 Culture Minister Miri Regev
Photo: Yaron Brener
Minister Miri Regev never wanted the Culture and Sport Ministry - she wanted the Welfare Ministry.

"I knew the cultural world was ungrateful, I don't feel like working for ungrateful people," she says in an interview with AT magazine for its July issue. "Tight-ass, hypocritical and ungrateful, and I don't feel like working for them."

The vociferous Likud minister has been drawing fire over the past few weeks, when she froze funding to the Al-Midan theater in Haifa after it staged a play about a terrorist who killed an IDF soldier, and pressured the Jerusalem International Film Festival to pull a documentary about Yigal Amir from the main festival's lineup.




And now she lashes out, explaining in the interview why she prefers the Welfare Ministry.

"Why welfare? Because these are people who really know how to appreciate. 'Thanks, Miri. My darling, thank you.' There is no appreciation in the cultural world. And I'm saying, come on, I'll move mountains... but what am I going to work for? Ungrateful, think they know everything. Annoying, some of them. Hypocritical. But I'm going to work for them. I guess that's a lesson, working for people who don't love me."

Prime Minister Benjamin Netanyahu, according to Regev, is happy with her performance so far. "He spoke to me about how he's pleased with the fact we are setting red lines. That this government is not apologetic like past governments," she says.

When Regev first entered the Culture Ministry, her appointment was met with a lot of contention. Actor Gavri Banai called her "a behemoth," while rocker Shalom Hanoch demanded she will not speak before his performance at the Israel Festival.

"I won't say I didn't want to show up Gavri, who called me a 'behemoth', or Shalom Hanoch. But I made a decision that the moment I'm in this job of being responsible for them, I won't play their dirty game. By the way, Gavri called me that on my worst day, the day of the swear-in," she says.

On Shalom Hanoch she says, "What could I have decided? That I'm not going to Shalom Hanoch's concert. But he is actually there because I'm funding this festival. Someone needs to pay them. I'm going out and giving money so there will be culture all over the country, so he dares come and tell me not to show up? Who do you think you are? I told myself, 'Miri, make a note. It's his problem, not yours.'"

Left-wing artists and politicians were quick to respond to Regev's vitriolic comments.

"When else needs to happen for the prime minister to understand that you can't leave the freedom of culture and creation in Israel in the hands of the cultural censor, Miri Regev," Meretz chairwoman Zehava Galon said.

"I'm shocked, she crossed the line a long time ago," actor Moshe Ivgi told Ynet. "Not only is she not correcting the error of her ways, she is taking a harder line. We must not stay silent about that."

Rocker Aviv Geffen wrote on his Twitter page: "I wish the culture minister a more successful and less tempestuous term than the way she started, and for her to learn to fight for the artists and not against them."

On Thursday night, Regev clarified her statements in the AT interview, "My comments were aimed at such artists like (Oded) Kotler, (Yair) Garbuz, and others, who call large parts of the nation 'behemoths,' 'mezuzah kissers' or 'riffraff' while I fight to increase the Culture Ministry's budget - and that is ungratefulness.

"From the moment I entered the Culture and Sport Ministry, I've been working in cooperation with representatives of the culture institutions in order to have a respectful dialogue that would help promote Israeli culture in the State of Israel. I intend to continue fighting to increase the budget for the benefit of the citizens of Israel and its artists."

Yoav Birenberg contributed to this story.