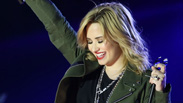 Demi Lovato performing in London
Photo: Getty
Hip hop artist Chris Brown will arrive in Israel for a concert at the Rishon LeZion Amphitheater on July 27, while American pop star Demi Lovato is in talks to perform two concerts in Tel Aviv's Menora Mivtachim Arena.

Lovato's management has been in talks with Israeli producers over the past few weeks, but they have yet to sign a deal to bring the X Factor judge to the Holy Land. The Menora Mivtachim Arena has already been booked for two concerts, in any case.

Israeli producers said Lovato is expected to arrive in Israel in 2015, probably around November, or next year at the very latest.

Lovato is considered one of the rising pop stars in recent years. She is only 22 years old, and started her way in show business at the age of 16 in a show called 'Barney & Friends.' In the same year, 2008, she released her debut album and has since released three others. Her resume also includes a seat on the American X Factor judges table.

Recording artist, dancer and actor Chris Brown, 26 years old, is also considered one of the hot names in music in recent years. He released his debut album in 2006 and has released five more since, the last of which came out last year.

Brown drew some negative press in the past for hitting his then-girlfriend, pop singer Rhianna.