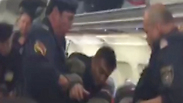 An Israeli passenger was arrested on an Austrian Airlines flight from Vienna to Tel Aviv on Tuesday, telling Austrian police officers who came to remove him from the plane, "You killed six million Jews. You want to kill another one?"

That comment was preceded by cursing in Hebrew. This led the Austrian policemen take the passenger - well-known photographer Yossi Davidov - off the flight to a holding cell, along with his three photographer companions.

The plane debacle delayed the flight by over an hour. According to witness statements, the trouble began when Davidov and his companions began arguing with flight attendants over bringing camera equipment onto the flight. The flight attendants believed that the equipment was overweight, and thus needed to be checked in.

Israeli photographer disrupts Austrian Airlines flight

Davidov, who is a known figure among Israel's Buchari Jewish community, reportedly said: "You don't like us because we are Jews," to Austrian police, who removed him from the flight. He also told police he only spoke Hebrew, and thus doesn't understand them, but then he began speaking English after he was cuffed.

In a video filmed on board the plane, Davidov and friends can be seen being forcibly led off the plane, and into a squad car.

The captain then announced to passengers that "Due to an unruly passenger, a delay of 45 minutes or more is expected."

There were more than 220 passengers aboard the aircraft at the time, who decried Davidov's actions as embarrassing to Israelis. "I felt really embarrassment when they announced that an Israeli is causing a disturbance," said a passenger named Galit.

Davidov's lawyer, Rueven Leviev, said in response: "My client was in Vienna to film an event in the Buchari Jewish community. At 12 am he called me and told me that he was detained with three other photographers. I don't justify his actions, however, when he got on the plane there was a Muslim flight attendant with a headscarf, and it seems that she saw a necklace with a Jewish Star of David on his neck, and decided to get back at him. He was travelling with cameras worth tens of thousands of dollars and always boards with them. Only on this plane was he specifically not allowed to bring the cameras on board, and he got mad."

He continued: "He is from a very well known family in the industry and expressed remorse over the incident. He was taken in for questioning and charged with attacking an officer, and causing a disturbance on a flight. After the intervention of the head of the Buchari community in Vienna, he was released with a 100 Euro fine. My client is very sorry for what happened, and would not repeat this behavior again."

Austrian Airlines also responded to the incident: "We regret the behavior of certain passengers, which caused a delay of an hour and 20 minutes to Austrian Airlines flight OS859 from Vienna to Tel Aviv. In every case where passengers arrive with overweight luggage, as was the case here, they are pointed towards the overweight baggage counter, where we try and help as much as possible."

"Due to the fact that some of these passengers' baggage was fragile, the crew offered that if there is space available on the flight, the baggage could be stored aboard, or in the luggage compartment, however, the passengers refused to send their excess luggage to the luggage compartment, chose to not follow the crew's instructions, the instructions that are meant to maintain the safety of all passengers on board, and began causing trouble. Furthermore, these passengers were removed from the aircraft while being escorted by airport security. We are saddened by these situations and our primary focus is the safety of the flight and all passengers aboard," the airline continued.