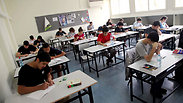 Students who fly abroad to undergo hasbara and public diplomacy lessons
A new initiative currently underway, takes students who are meant to fly abroad on different delegations, and requires them to undergo a minimum of 10 hours of public diplomacy training. The effort is meant to combat the de-legitimization of Israel abroad.
Students who go on youth delegations abroad are now required to undergo training in Hasbara and public diplomacy. The first course is currently underway, and is attended by students who will be sent to Germany, China and France.

The decision to conduct the training was made in the Education Ministry after operation Protective Edge, as criticism of Israel and its policies grew around the world, and due to the recent discussion surrounding the boycott movement.

The youth delegations are made up of students who fly to international competitions and from now own must undergo a minimum of 10 hours of training, during which they will learn about the Israel-Palestinian conflict, the policies of the State of Israel, and will be equipped with tools to deal with bodies who "seek to delegitimize Israel and her image."

The lessons will take directed, and so at the end of the course every group will be assigned a task specific to the country they will be visiting.

Osher Anijar, a 9th grade student from Rabin high school in Eilat, is set to fly to Germany, as part of a student exchange program. Her and her friends from the exchange are taking part in the first course. "Until now we learned about the Israel-Palestinian conflict, about the Arab countries and Israel's borders," she says. "They explained to us that its important to give a good first impression. We were shown videos which show how Israel is seen in the world."

Do the lessons help?

"Very much, my knowledge was expanded and that's important. I personally have a problem speaking in front of people, sometimes I stutter, and the lessons gave me more confidence. I hope I can represent my country proudly," she says.

The National Coordinator of Youth Leadership, Hadara Rosenblum said: "The decision after Protective Edge, where students who flew abroad where met with questions like what is happening in Israel? What is happening in Jerusalem? They where asked about the security barrier, and the country's border. In the end of the day these students who fly abroad do represent Israel, they fill an important task in Israeli hasbara, sometimes without even knowing it. So it is important that they leave here with the necessary knowledge to deal with the tough questions."