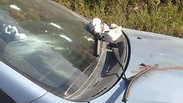 Photo: IDF Spokesperson's Unit
Photo: IDF Spokesperson's Unit
Just hours after 25-year-old Lod resident Danny Gonen was killed by gunfire at point-blank range near the settlement of Dolev in the West Bank, President Reuven Rivlin addressed the incident calling it, "Another step in the quiet and serious escalation in acts of terrorism we have witnessed in recent months."

Gonen was declared deceased Friday upon reaching Tel HaShomer Hospital by helicopter with critical wounds. He had been traveling with a friend when a Palestinian supposedly signaled for their car to stop as if to ask for help. He then pulled out a hand gun and fired at Gonen at point-blank range. The second Israeli was also wounded, but was expected to be released from the hospital soon.

"We will not accept a situation in which a young hiker has his life taken from him in the land of Israel because he is Jewish," said Rivlin.

Scene of the attack

The president then called on local Arabs to make their voices heard against the attack saying, "There should be heard clear and decisive condemnation of such criminal acts from both the Arab leadership, which bears responsibility for actions of terrorism emanating from its territory, as well as from the leaders of the Arab community in Israel."

Prime Minister Benjamin Netanyahu echoed Rivlin's warnings in a Facebook page saying, "We can't let the relative calm achieved thanks to many counterterrorism (efforts) mislead us - the attempts to harm us are continuing always."

Initial investigations into the incident indicated that those responsible acted alone without backing from any organizations. A group claiming connections to Hamas in the West Bank claimed responsibility for the attack however, in the late hours of Friday night.

"The signs in the field show that the shooting... was a terror attack," wrote Netanyahu. "We will continue fighting against them (terror attacks) will all of the tools at our disposal."

Hamas in Gaza welcomed what they called the "excellent and heroic attack" without claiming responsibility for ordering, organizing, or carrying it out in any way.

The UN envoy to the Middle East Nickolay Mladenov also condemned the attack and urged restraint to in order to maintain peace in the region.

Aharon Gonen, the deceased's uncle, said that Danny "was the best kid in the world. He was the mainstay of the family."

The rest of the Gonen family, as well as his friend who was lightly wounded, were unavailable for comment after the beginning of Shabbat.

Israel saw a wave of so-called "lone wolf" attacks last year by Palestinians using guns, knives and vehicles in Jerusalem, Tel Aviv and the West Bank. Police say it's difficult to stop such attacks because assailants act on their own, without working through established militant groups.

The violence has largely tapered off, but two attacks last month wounded several Israelis, including two paramilitary police officers.

The Associated Press contributed to this report.