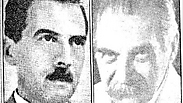 Mengele during WWII (L) and in Brazil
Photo: Yedioth Ahronoth Archive
Thirty years ago – on June 21, 1985 – Brazilian police announced its official finding that infamous Nazi war criminal Josef Mengele had drowned in February 1979. The news, which came a full four decades after the end of the Second World War, caused skepticism among many, despite medical records suggesting its validity.
Josef Mengele studied medicine in Frankfurt, joined the SA in 1933, and began working at a research facility founded by the Nazi party in an attempt to prove its theories about genetics and racial purity.
In the early years of the war, the doctor was a medical officer in the Waffen SS. In 1943-5 he was the chief doctor at the Birkenau extermination camp adjoining Auschwitz, where his main role was to carry out the "Selektion" of prisoners brought by train -- sentencing them either to slave labor or immediate death. His victims took to calling him "the Angel of Death".
Besides overseeing this cruel process, Mengele also performed vicious medical experiments on unwilling camp inmates, including children.
Mengele notoriously focused his brutal experiments on twins in an attempt to research genetics. Whether or not there was ever any scientific value in his findings, his inhumane methods have discredited his work.
Early June, 1985, saw the publication of a photograph showing a skeleton exhumed from a grave in a town near Sao Paolo.
"We believe with 90 percent certainty that the Nazi criminal Josef Mengele died in a swimming accident," the local police chief announced. A local judge ordered forensic testing of the remains. Nazi hunters first greeted the news with skepticism, suspecting it was a rumor propagated by Mengele associates eager to halt searches for him.
The first clue that Mengele was dead and buried in a remote Brazilian cemetery came from Paraguay. A letter suggested that a man named Hans Sedlmeier, formerly deputy manager of a Bavarian factory owned by the Mengele family, might have assisted Mengele in Brazil.
Sedlmeier was a familiar name to the Nazi hunters. By the 1960s they suspected he was in contact with Mengele, believed to be hiding in South America. West German police raided Sedlmeier's residence, finding correspondence with an Austrian couple living in Brazil, the Bossarts.
West German authorities then turned to Brazil, which raided the couple's home. The Bossarts admitted that Mengele had been present at the house, and that he confessed his identity after living there for a year or two. They added that they hosted him for many years, and "he was always afraid that the Jews would come and get him".
The Bossarts said they had gone on vacation with Mengele in February 1979, where he suffered from a heart attack while swimming and died. Following his death, said the couple, they passed on the information to Germany, after which Mengele's son Rolf arrived in Sao Paolo to collect his father's belongings.
Investigators in Brazil issued a court order allowing the exhumation of the skull following the Bossarts' statement.
Even after the official announcement by the Brazilian government that the skull was indeed the Nazi criminal's, some were still doubtful. The famed German newspaper Bild claimed a Mossad agent had admitted that Mengele was alive, but extremely ill. According to this report, the Nazi war criminal was photographed in Bolivia in 1980 – a year after his purported death.
Another German newspaper, Welt am Sonntag, quoted the chief of the Israeli police's unit dealing with Nazi war crimes as saying that Mengele was alive. The official reportedly claimed that the evidence was contradictory and there were hints of an attempt to mislead those seeking to catch the "Angel of Death".
Another skeptic was Marc Berkowitz, a Holocaust survivor who served for a time as Mengele's valet and spoke to People magazine in 1985. "Of course he is alive," Berkowitz told People. "And he's laughing. He never had such a good time in his life. Drowned? He had a phobia of water; he considered it dirty. He wouldn't go near a lake. He had a pool at Auschwitz, but he wouldn't go in it."
Meanwhile, Mengele's son announced that he had no doubt that the exhumed body was his father's. Rabbi Abraham Cooper, associate dean at the Simon Wiesenthal Center headquartered in Los Angeles, pointed to this statement as proof that Rolf Mengele was actively involved in a cover-up.
Gideon Hausner, head prosecutor in the Adolf Eichmann trial, also cast doubt on Rolf Mengele's declaration. Nazi hunter Serge Klarsfeld likewise found the claim unconvincing.
Then-head of the Israeli police division that investigates Nazi crimes, Menachem Russek – a Holocaust survivor himself – said he wanted another opportunity to see Mengele, and this time in court. "The first time I saw him was in Auschwitz," he said.
On June 22, 1985, Brazilian police formally announced to the press that the exhumed body belonged to Mengele, "beyond any shadow of a doubt".
Russek, arriving in Sao Paolo, said he accepted the finding.
One of the most important factors in identifying the body was the knowledge that in 1944, Mengele had fractured his pelvis in a motorcycle accident at Auschwitz. A similar fracture in a similar location was indeed seen on the skeleton. Another discovery was a gap between the front teeth that corresponded precisely to Mengele's dental records, found in the Waffen SS archives in Germany.
These clues led the United States to accept the authenticity of the body and withdraw its team of investigators.
Reactions in Germany and Israel were more restrained. Meanwhile, Brazilian authorities announced their intention to bring the Bossarts to trial for helping Mengele.
In 2003, senior Mossad official Rafi Eitan said that Israel had been close to capturing Mengele. Eitan said in an interview that in 1960, as the secret surveillance of Adolf Eichmann reached its peak, operatives received information that Mengele was living in the same city.
Eitan, who headed the Mossad and Shin Bet cell that nabbed Eichmann, said Mengele's address had been confirmed. But Eitan opposed the idea of capturing Mengele as well, unlike Mossad chief Isser Harel.
"I was afraid that as soon as we split up our forces, we might lose the element of surprise and miss them both," he said. "We had an argument. I said: First we finish the Eichmann operation and maintain secrecy, and then we will carry out a special operation to capture Mengele."
Eitan and his Mossad team proceeded to search for Mengele in Argentina after capturing Eichmann, only to discover that he had disappeared. A 2007 book made the claim that Mengele and Eichmann regularly met at a Buenos Aires restaurant.