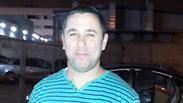 Netanel Hadad, who was wounded in a shooting attack over the weekend that claimed the life of his friend Danny Gonen, recounted the horrible incident on Sunday morning. "I was fighting for Danny's life," he said.

Hadad and Gonen wanted to go swimming at a spring near the Dolev settlement in the Binyamin region of the West Bank on Friday, but after getting lost on the way, the two drove back onto the main road.

"We went down to the spring on foot and realized we were losing our way, so we went back to the car," the 25-year-old Lod resident said. "Danny and I don't carry weapons but our other friend (who was supposed to join them) did. We spoke to a security guard asking if there was any security in the area. He said there wasn't, but that there were Israelis who went down to the spring with weapons.

"We got to the parking area with the car, wanted to go to the spring, saw a few suspicious vehicles, looked at the spring and saw there were only Arabs there, so we turned around," he continued.

While driving away, Hadad said, their vehicle was surrounded by several other cars. "When we got to the junction, someone walked up to us on foot, wanted to talk to us. Danny was driving and I was sitting next to him," he said.

"We opened the window and he smiled and asked about the water in the spring. He said 'thank you' and we continued on our way. He kept walking and two seconds later called us back. We stopped again, and he started shooting – first at Danny and then at me. He went to the front of the car and kept shooting. While this was happening, I called our other friend and told him we were being shot at," Hadad continued.

Gonen was critically wounded, and Hadad tried to save him. "I opened his belt, gave him CPR, and realized the situation was not good. I ran to the junction to make sure the terrorist wasn't coming back and directed the third friend to us.

"A minute later two other cars belonging to Arabs passed by. One of the drivers stopped and got out of the car. I told him I didn't know what to do. I realized it could be another terrorist and then his friends called him to come back. He realized this was a terror attack, and ran.

"I went back to Danny, took off his shirt and created an arterial tourniquet. I called Magen David Adom and asked them to tell me how to do CPR, and it didn't work."

Hadad said he felt "fear and pressure and adrenaline" during the attack. "You don't think. I was fighting for Danny's life."

He went on to say that his fight now, was to keep on living.

The shooter remains at large, while the IDF concluded its sweeps through the area, questioning locals in nearby villages of Ein Kinya and Dayr Ibzi. The investigation into the attack was passed on to the Shin Bet.

A primary inspection of the victim's vehicle shows that the assailant fired at least 10 rounds, four of which hit the car, and ran away. Shin Bet investigators collected 9mm shell casings found near the vehicle, which suggests the shooter fired from point-blank range. The casings were passed on to forensics. Additionally, the investigators questioned hikers who where in the area prior to the attack.

Hadad, who was light-to-moderately wounded in the attack, asked to leave the Sheba Medical Center in Ramat Gan where he was hospitalized to attend his friend's funeral on Saturday night.

Some thousand people - family members, friends, acquaintances and other Israelis who didn't know Gonen but felt a duty to accompany him to his final resting place - attended his funeral at the Lod cemetery. Among those present at the funeral were Agriculture Minister Uri Ariel and Deputy Foreign Minister Tzipi Hotovely.

Dvorah Gonen, Danny's mother, eulogized her son at the funeral: "Danny, my dear, beloved son. It is inconceivable that we are standing here now, talking about you in the past tense. You were a source of great pride, your brothers' and sisters' backbone. You were a devoted son, and, when necessary, a friend, and you were with me through everything.

"You lived your life as a free Jew in his country. You loved the country and you loved the truth. You espoused the truth and that's how you lived. Love of the land was a supreme value for you. You also loved those who lived in the land. You loved to hike. Alas, you were murdered while hiking in the land you loved. I love you Danny," she said in tears, leaving not a dry eye around.

"Dear and so beloved brother. Our backbone. We can not believe it," Danny's sister Ruth said. "We are in a nightmare and we miss you already. Without you we don't see a future. How will mother go on without you? You were my role model."

She spoke of his good heart and how he helped everyone: "You were a man of benevolence and truth, your kindness led to your death."

Gonen's friends hugged each other and cried for several long minutes. Danny's uncle Yisrael Moore said before the funeral: "This is real pain. The boy gave everything to the state and loved his family and all mankind. We have only good things to remember him by. His father died five years ago and since then he stepped into his shoes and educated and looked after his siblings. He was the family's backbone. He just went on a hike and was murdered in cold blood."

Lod's Mayor Yair Revivo also attended the funeral, "This is a dark Shabbat for Israel and the city of Lod. I appeal to the defense minister, who recently decided to ease the Palestinians' conditions. They fooled us against. It cannot be that our children can't hike in our country when celebrating their holy days. Two months ago we erected a monument to terror victimes near Danny's house. Now Dvorah will see her son's name engraved there."

Earlier, the mayor said that "Instead of dealing with unnecessary culture wars, we should be united against our enemies who rise up to destroy us, some of them have only one culture - that of murder and violence."

He announced that scholarship awards ceremonies in Lod will be named after Danny Gonen.

Agriculture Minister Uri Ariel said, "Vengeance belongs to God Almighty. We say to you, the Gonen family, Lod, the nation of Israel: We will continue to build Lod, Dolev and Ma'aleh Adumim, where Danny studied. We will build our country spiritually and materially. The Ein Bubin spring will from now be named after Danny. We shall visit there, we shall plant and take root there and in all of the Land of Israel."

Rabbi Haim Sabato Hacohen of the Ma'aleh Adumim Yeshiva where Danny studied also spoke at the funeral, "You came to the yeshivah with the Lod group, you entered with so much happiness and faith in God, just like all those from Lod. You brought joy and faith and now we're left with tragedy. Murderers and the despicable have murdered a dear son of Zion,

a man of good deeds and ethics. They did pity neither the lives of others nor the lives of their co-religionists. This is not our way – with faith and ethics we will build the Land of Israel."

Rabbi Yisrael Samet of Lod spoke of Danny's modesty and said that Danny's death has transformed him into a martyr. "You held up the family in recent years, everyone would go to you in times of need. Who now will do everything help his siblings? Who will help friends who ask for help?"