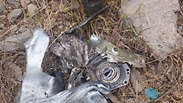 Remains of crashed aircraft in Lebanon's Bekaa Valley
An aircraft crashed near the town of Saghbein in a remote area of Lebanon's western Bekaa region on Sunday, with Lebanese security sources claiming it might be an Israeli drone.

A security source in Lebanon told Hezbollah's Al-Manar TV channel that the drone crashed overnight and that an Israeli airstrike on Sunday morning blew up the drone to ensure it is destroyed. Earlier, Al Jazeera reported that Israeli attacked in the area.

A Lebanese security source told Reuters that the cause of the blast, which occurred in a mountainous area near the town of Saghbein, "is still not 100 percent clear but most probably it was an Israeli air strike to destroy their drone."

At present, there is no Israeli confirmation of the Lebanese report and an IDF spokeswoman declined to comment.

According to the official Lebanese news agency, an explosion was heard in the area and it was accompanied by aerial raids. The news agency also reported that the Lebanese military was at the site of the crash examining in the remains of the aircraft in an attempt to identify its origins.

According to reports in Lebanon, Israel has been flying its drones over south Lebanon and the Hermon Mountain all morning. These reports were also unconfirmed.


The sources refused to give further details, with one saying that a "proper investigation" was still to be undertaken into the blast. It was not clear if there were casualties.

Israel has reportedly carried out several air strikes in neighboring Syria since the start of the four-year civil war there, mostly destroying weaponry that were destined for Lebanon's Shi'ite militia Hezbollah, Israel's long-time foe. Israel rarely confirms such strikes.

Hezbollah and Israel fought a 34-day war in 2006 in which hundreds of people were killed.

Earlier this year, an alleged Israeli helicopter strike in Syria killed several Hezbollah members and an Iranian general. The group hit back days later with a rocket attack that killed two Israeli soldiers on the frontier with Lebanon.

Observers and Lebanese residents have sometimes seen surveillance planes over Lebanon before such strikes.

The Hezbollah-run al-Manar news channel reported the explosion in Bekaa but did not give more details.