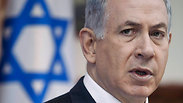 Prime Minister Netanyahu
Photo: Alex Kolomoisky
Prime Minister Benjamin Netanyahu said Sunday he will "fiercely reject" any attempts to impose "international dictates" on the Israeli-Palestinian peace process.

French Foreign Minister Laurent Fabius, on a two-day visit to the Middle East, was due to meet Palestinian leaders in the West Bank before seeing Netanyahu later in the day.

France has said it will propose a resolution in the United Nations Security Council with a framework for negotiations toward resolving the Israeli-Palestinian conflict, providing backing to the talks by Arab leaders, the European Union and UN Security Council members.

"The way to reach an agreement is only through negotiations and we will fiercely reject attempts to impose international dictates," he told his weekly cabinet meeting.

Netanyahu said that attacks against Israelis will continue with any international proposal that does not take Israel's security concerns into account.

"They are trying to shunt us toward indefensible borders, ignoring what will happen on the other side," Netanyahu said.

Early Sunday, a Palestinian assailant stabbed and critically wounded an Israeli policeman in Jerusalem's Old City. The policeman shot the attacker, critically wounding him, before collapsing and being rushed to a hospital.

On Friday, a Palestinian shot an Israeli hiker to death in the West Bank.

Fabius is coming to the region to sound out leaders about a planned Security Council resolution that aims to restart peace talks after a more than year-long lull.

Palestinian officials and French diplomats have said the proposal would call for basing the borders between Israel and a future Palestinian state on the lines that existed before Israel captured the West Bank, East Jerusalem and Gaza Strip in the 1967 Six-Day War. It also would set a two-year deadline for an agreement. Israel rejects a return to its pre-1967 lines, saying they are indefensible. It also opposes deadlines.

Two decades of talks brokered mainly by the United States have failed to produce a two-state solution. The latest peace push, led by US Secretary of State John Kerry, fell short in April 2014 after nine months of tense negotiations and the gaps between Israeli and Palestinian positions remain vast.

Earlier this month, US President Barack Obama said the absence of a peace process and conditions raised by Netanyahu on Palestinian statehood would make it hard for the United States to continue to defend Israel at the United Nations.

The Palestinians have sounded circumspect on Paris' moves.

"We want the decision to include an independent Palestinian state on the 1967 borders with Jerusalem as its capital, and a timetable for negotiations and implementation," President Mahmoud Abbas told reporters on Tuesday.

"If the initiative contains what we need, then it will be welcome, and if it does not, then it will not be welcome and there is no need for it."

Reuters contributed to this report.