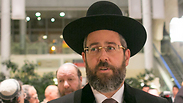 Chief Rabbi Lau. 'A black warning sign to the entire world'
Photo: Ohad Zwigenberg
Israel's Chief Ashkenazi Rabbi David Lau has issued a harsh condemnation of the suspected arson at the Church of the Loaves and Fishes on the shore of the Sea of Galilee on Wednesday night, calling it "a black warning sign to the entire world."

The rabbi clarified that "this act, which was allegedly committed by radical elements, contradicts the values of Judaism and human ethics."

Fire Aftermath

Ahiya Raved, Itay Blumenthal

Following suspicion that fire at church in Galilee was hate crime, local Christian leaders urge authorities to do more and warn that pilgrims are reconsidering their trips.

Sixteen teenagers were detained for questioning Thursday morning following the arson at the church in Tabgha, which is one of the most important and famous churches in Israel. The teens all study in the same yeshiva in Judea and Samaria and were hiking with their friends near Prophet Habakkuk's grave, which is located about 20 kilometers from the church.

The chief rabbi called on community heads to "stand on guard so that these radical phenomena will not destroy the relationship of respect between all the religions in Israel. The gentle fabric of these relations must be maintained, and the religions' leaders have an important role in influencing their community members. They must insist that there will be no offense to any place which is sacred to any religion."

The chief rabbi noted in his statement that "the ideological robe worn by those who act violently has turned into a black warning sign to the entire world in recent years." He added that he was "convinced that the Israel Police will do everything in their power to locate these people and punish them with all severity of the law."
Rabbi Cherlow: A barbaric act
Following the suspicion that the arson was nationalistically motivated and a hate crime, the investigation was transferred Thursday to the Judea and Samaria nationalist crime department. Locals were shocked by the fire and the graffiti sprayed on the wall - "and the idols will be cut down."
Rabbi Yuval Cherlow, head of the Petah Tikva Hesder Yeshiva, joined the condemnations.
"Judaism has a battle against idolatry, as a faith which claims to have a historic mission of bringing a blessing to the world," he said. "Torching churches is the exact opposite of that. It's a barbaric act which harms people, pulls the rug from under the moral claim which forbids harming Jews around the world, and mainly does nothing to promote the battle against idolatry."
The rabbi added, "We should stand unequivocally against the wrong implementation of the vision of the monotheistic faith, and move together with the entire world towards a belief in one God and in the morality that this belief requires.
"It breaks my heart to see what is allegedly done in the name of religion," he said, "but is in fact a reverse movement in the direction of religious faith, if we are talking about a pogrom referred to as 'price tag.'"