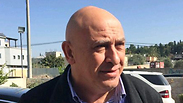 MK Basel Ghattas of the Joint Arab List on Sunday confirmed to Ynet that he intends to board a solidarity flotilla from Greece to Gaza.

Ghattas is not the first Arab MK to board a flotilla: Five years ago, his colleague from the Joint Arab List, MK Hanin Zoabi, was on the Mavi Marmara, a flotilla that was raided by Israeli commandos in 2010.

Ghattas sent a letter to Prime Minister Benjamin Netanyahu and Defense Minister Moshe Ya'alon stating his intention to board the ship.

"There is no reason to prevent us from reaching Gaza and administering the aid that we are bringing with us," he stated. "I call on you to instruct the Israeli Defense Forces to stay away from the flotilla and allow us safe passage. Taking over the ships and preventing them from reaching Gaza will only embroil Israel in another international crisis, for which you and your government will bear responsibility."




Politicians were quick to react to the news, with many censuring the decision.

According to former foreign minister and Yisrael Beytenu Chairman Avigdor Lieberman, "The whole purpose of the Joint Arab List is to hurt the state of Israel, while using Israeli democracy in an attempt to destroy it. Israeli society must stop these hypocritical games, and act to remove this bunch of terrorist supporters from within us."

The three-ship flotilla, which was organized by Swedish pro-Palestinian activists, will include academics, parliament members, artists and others. Even though the names of the participants have not been officially published, among the participants are Spanish MP Ana Miranda and ex-pat Israeli Dror Feiler -- an artist and left-wing activist who has lived in Sweden for many years.

In a conversation with Ynet, Ghattas explained his motives: "The situation in Gaza is severe, nothing has changed, and things are getting worse. The blockade has only gotten worse. The financial situation is very difficult and Israel and the world are driving this trend."

Gatas said the aim of the flotilla is to put the situation in Gaza back on the global agenda, and "try to force international pressure on Israel to change its policies. If the current situation continues, the next outbreak of violence is only a matter of time."

The MK is not worried about the consequences, much like fellow party member MK Hanin Zoabi, who was on board the Mavi Marmara in 2010. "The flotilla includes people who want to administer aid, mainly medical. It's a flotilla of peace, and not violence. To those who criticize me I say: Why don't you join me? Why aren't Israelis who are worried about a renewed outbreak of hostilities joining me in order to end the severe blockade of Gaza?"

In the letter to Netanyahu and Ya'alon, Ghattas wrote that several parliament members and public figures from all over the world are on board the flotilla; "The civilian flotilla is peaceful, and aims to focus public attention to the plight of 1.8 million Palestinian living in prison-like conditions as a result of the blockade. There is no reason to prevent our arrival in Gaza."