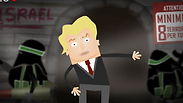 Still from cartoon
Photo: YouTube
The Foreign Ministry on Sunday removed the online animated video it produced satirizing coverage of the Gaza Strip by foreign journalists, which angered many members of the press stationed in Israel. Journalists expressed confusion about the government's motive for the mocking clip.

Media outlets worldwide have reported on the mocking video, including the Washington Post and the New York Times.

The short video shows a foreign correspondent being interviewed on his perspective on life in the Gaza Strip, while the reality of the situation unfolds behind him. The journalist makes claims about the peaceful, democratic nature of Hamas rule.

Foreign Ministry Cartoon ( )

The film ends with the appearance of another reporter, who hands her colleague a pair of glasses. "Maybe now you'll see the reality of life under Hamas rule," she says. The reporter dons the glasses, and faints away once he sees "the reality."

Foreign Ministry Spokesman Emmanuel Nahshon defended the controversial video, which had both foreign and Israeli reporters up in arms on social media.

He said the video was "poking gentle fun at the phenomenon" of Hamas allegedly using "human shields" during fighting and only "partial reporting" of this by international media.

On the New York Times' website, Ernesto Londono stated flat-out about the video: "It was lame. It wasn't funny. It was offensive."

The Foreign Press Association in Israel issued a statement deploring the video. The Association was "surprised and alarmed by the Israeli Foreign Ministry's decision to produce a cartoon mocking the foreign media's coverage of last year's war in Gaza," read the statement.

"At a time when Israel has serious issues to deal with in Iran and Syria, it is disconcerting that the ministry would spend its time producing a 50-second video that attempts to ridicule journalists reporting on a conflict in which 2,100 Palestinians and 72 Israelis were killed.

"Israel's diplomatic corps wants to be taken seriously in the world. Posting misleading and poorly conceived videos on YouTube is inappropriate, unhelpful and undermines the ministry, which says it respects the foreign press and its freedom to work in Gaza."

Meanwhile, Paul Mason of the British Channel 4 said the video was insulting and a direct attack on foreign journalists.

The Washington Post's correspondent in Israel, Ruth Eglash, said the video did not reflect reality and that it was unclear why the Foreign Ministry was insulting foreign journalists instead of holding a serious dialogue.

Foreign Ministry sources said they were surprised by foreign journalists' outrage and that there had been no intention of offending anyone. "During Operation Protective Edge rockets were fired from populated areas and near public structures," said the Ministry.

"All this was well-known and documented. But incriminating photos were published only later, with a notable delay. The claim was fear of Hamas. The video looks at this phenomenon in an amusing way."

AFP contributed to this report.