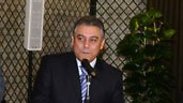 The new Egyptian ambassador
Egyptian President Abdel Fattah el-Sisi has authorized new appointments for Egypt's diplomatic staff around the world, including a new ambassador to Israel.
The new ambassador, Hazem Khairat, has previously served as the assistant to the deputy foreign minister on diplomatic and consular matters. Khairat will replace Atef Salem el-Ahl, the current ambassador to Israel.
The Israeli foreign ministry has authorized reports coming out of Egypt on the appointment, and has issued a statement on the matter, saying: "The Foreign Ministry welcomes the appointment."
The outgoing ambassador, Salam, has been serving from Egypt since 2012, when then-president of Egypt Mohammed Morsi withdrew him from Tel Aviv in protest over operation Pillar of Defense in Gaza. Since then, the ambassador has not returned to Tel Aviv.
Egyptian sources told Ynet that Khairat belongs to a well-known family of diplomats, and has served as Egypt's representative in the Arab League, as well as Egypt's ambassador to Syria and Chile.
Salam will now serve as Egypt's ambassador to Cuba. The official switch is to occur in September, and the Egyptian source estimates that it is not unlikely that the ambassador will return to Tel Aviv.
Another interesting appointment in this round is that of Yasir Rida as Egypt's ambassador to Washington. Rida, who has served in the past as Egypt's ambassador to Israel, was the last ambassador in Tel Aviv during the Mubarak era. Rida was also called back to Cairo after a 2011 incident, in which three Egyptian police were killed by IDF fire while troops pursued terrorists from Sinai.
Prime Minister Benjamin Netanyahu responded to the appointment; "I welcome the Egyptian government's decision to send an ambassador to Israel. It strengthens the ties between our countries. It strengthens peace."