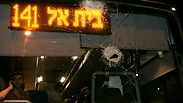 Photo: Tazpit News Agency
Photo: Tazpit News Agency
Just hours after a stabbing attack at Jerusalem's Damascus Gate in the Old City seriously wounded an Israel border policeman on Sunday, riots erupted on the scene where dozens of Palestinians threw rocks at Israeli forces in the area, continuing an apparent escalation in tensions in Jerusalem and the West Bank since the beginning of Ramadan on Thursday.

The riot was the second in less than 48 hours to take place at Damascus Gate where Border Police responded with riot control measures to disperse the crowd.

At the same time, Molotov cocktails and rocks were hurled at a bus near Geva Binyamin in the West Bank. The 45-year-old bus driver was lightly wounded by broken glass and a few people were treated for shock.

However, the two incidents weren't the only breaches of security on Sunday night. A Molotov cocktail was also thrown at police forces near the Ma'ale Ze'etim in East Jerusalem where a police car suffered damage and police began searching for suspects in the act.

Yet another Molotov cocktail was thrown at police near the cliffs of Isawiya next to the Hebrew University of Jerusalem. No one was harmed and no damage was reported in the last incident.

One of the Molotov cocktails was thrown at the home of Jerusalem City Council Member Ariyah King in Ma'ale Ze'etim. King said after the attack, "The Police continue to abandon me and my neighbors. Terrorists attacked our home with four Molotov cocktails and dozens of rocks; pictures show how close my house was to being set on fire."

Sunday's incidents were only the latest in a recent bout of attacks that have occurred since the beginning of Ramadan.

Danny Gonen (25), a resident of Lod, was officially proclaimed dead at Tel HaShomer Hospital on Friday after being critically wounded in a shooting attack along a dirt road near the Israeli settlement of Dolev in the West Bank.

In light of the escalation over the last few days, Prime Minister Benjamin Netanyahu and Defense Minister Moshe Ya'alon decided Sunday to cancel 500 exit permits that granted Palestinians the ability to depart through Ben Gurion airport during the month of Ramadan.