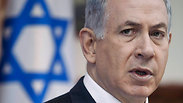 Netnayahu
Photo: Alex Kolomoisky
Israel's Foreign Ministry published a harsh response to the UN Human Rights Council's report on 2014's Operation Protective Edge on Monday, calling the UNHRC "a notoriously biased institution" that "has a singular obsession with Israel."

The report released just prior to Israel's statement harshly accused Israel of continuing its policy of airstrikes despite the resulting death if Gaza and suggested that Hamas had made efforts to warn Israeli civilians of impending rocket attacks.

On the other hand, the report said that Hamas was responsible for war crimes in the public executions of individuals labeled as Israeli "collaborators." Investigators also said that because of Israel's refusal to release specific information for security reasons, or to cooperate with the investigation, made it difficult to come to honest conclusions on certain issues.

"We take note of the fact that the authors of this report admitted that they lacked much of the relevant information," read the Israeli response. "It is regrettable that the report fails to recognize the profound difference between Israel's moral behavior during Operation Protective Edge and the terror organizations it confronted.

"Israel will consider the report in light of these essential failings. It would encourage all fair-minded observers to do the same."

The Foreign Ministry cited an internal Israeli investigation into the conflict, saying, "In defending itself against attacks, Israel's military acted according to the highest international standards."

Prime Minister Benjamin Netanyahu replied to the UN report at a Likud meeting on Monday afternoon saying that the organization that calls itself the Human Rights Council, "does everything besides caring for human rights."

Deputy Foreign Minister Tzipi Hotovely also responded to the UN report personally, saying, "The entire purpose of the report is to smudge the face of Israel and the IDF."

Education Minister Naftali Bennett responded to the United Nations report saying, "This report has blood on its hands because it permits the murder of Jews". Bennett noted that the report "ties our soldiers' hands and prevents them from protecting the people of the south and the entire country."

Bennett added, "When the questions are dipped in hypocrisy and treat Jewish blood as if it were invisible ink, the answers do not matter, as the one who decides what to investigate also decides what the investigation's results will be ".

President Reuven Rivlin responded; "I am proud, as all of Israel should be proud, of the moral strength, and the military abilities of the Israel Defense Forces. I do not see how anybody could judge us and tarnish our name. The moral dilemmas which we face require split-second decisions, when we have a duty and a right to defend the citizens of Israel – women, children, babies – under attack, and when our enemy tramples international law and uses its people as human shields."