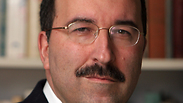 A secret meeting was held Monday between high ranking Israeli and Turkish officials in an attempt to repair the relations between the two nations five years after the IDF raid on the Gaza-bound Mavi Marmara flotilla, and while a new flotilla is set to depart for the Palestinian enclave.

The Foreign Ministry's recently-appointed director-general, Dore Gold, embarked on a secret trip to Rome, for a meeting that was scheduled ahead of time with Turkish counterpart Feridun Hadi Sinirlioğlu.

The meeting occurred after a long period of disconnect between Israel and Turkey.

Gold flew to Italy without the knowledge of Yossi Cohen, the National Security Advisor, who was responsible for talks between Jerusalem and Ankara until now. Gold also did not notify Joseph Ciechanover, Prime Minister Benjamin Netanyahu's previous envoy for Turkish issues.

Gold is said to have been asked to gauge whether the crisis between the two nations could be brought to an end.

The meeting also acted as an introduction between Gold and Sinirlioğlu, who previously served as Turkey's ambassador to Israel. Sinirlioğlu is well respected by the most senior officials in Turkey, and is trusted with leading the efforts to repair the relationship.

Officials in Israel believe that the recent elections in Turkey have opened the door on a possible reproach in relations.

The Foreign Ministry confirmed Gold's trip to Rome, however refused to comment on the reasons for his visit.

Netanyahu apologized over the Marmara raid to Turkish Prime Minister Erdogan at the urging of US President Barack Obama two years ago in an attempt to restore the strained ties. However, no deal was reached, and the disconnect has continued.