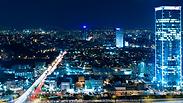 White Night 2014
Photo: Shutterstock
Tel Aviv is preparing for a series of events expected to take place across the city this Thursday as part of White Night 2015. This year's White Night events are a tribute to European culture and are being held in cooperation with the European Union and its member states, featuring artists and chefs from Europe.

Tel Aviv has been holding its annual White Night festival since 2003, when the United Nations Educational, Scientific and Cultural Organization (UNESCO) proclaimed Tel Aviv's White City a World Cultural Heritage site. The White Night events aim to mark the declaration and present the Israeli metropolis as a "nonstop city." As part of the events, the city's businesses are permitted to remain open all night on the last Thursday of June.

This year's events include:
Dinner in White – A huge outdoor chic picnic on Wednesday night
Touch Me Baby! – A video art exhibition
DeliShow – A delicious show of fashion and cuisine from Israel and Europe
The Public Hanging of Jester X – A wild and contemporary theater and circus show featuring artists from Germany and France
A really quiet headphones party at Rabin Square, featuring DJs from Europe
A screening of "Grease" at the legendary drive-in
Italian jazz on Ben-Gurion Boulevard
Sing-alongs
Swing Dance Party
A make-believe pop-up park – An imagined urban park at the foot of the new Central Bus Station with live music, local bands, art displays and recreational activities
The Boston Gay Men's Chorus, which includes 175 singers
A tribute to Leonard Cohen
A tribute to Meir Ariel
A tribute to the municipal youth troupes
A sleepover for children at the Land of Israel Museum

Dozens of other events will be held outdoors or at cultural institutions: Music, theater performances, folk dancing, dance performances, selections from operas, classical music recitals, jazz ensembles, rock and alternative music concerts, video displays, meetings with artists and creators, poetry readings, discussions about literature and philosophy, nighttime sports activities, yoga lessons at dawn, shopping, street parades, parties at clubs, special nighttime menus at restaurants and cafes, guided tours throughout the city, and decorative illumination of Bauhaus buildings in the White City district.

A "beer garden" event sponsored by Paulaner Beer will be held in the main plaza of the Sarona compound and will include musical performances, beer and food till the small hours of the night.