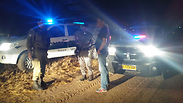 Searching for a rocket in early June
Photo: Bar-el Efraim
The Israeli Air Force struck a target in the northern Gaza Strip from which a rocket was launched earlier Tuesday night.
A Salafist group sympathetic to the Islamic State group, the "Omar Brigades," claimed responsibility.
Yisrael Beytenu Chairman MK Avigdor Lieberman said after the incident that "He who is willing to absorb 'trickles' will ultimately get torrential rain.
"We cannot accept this situation. No government has a right to exist if it is willing to accept a situation in which less than a year after a military operation that cost us dearly in soldiers' lives and disruption of national life for two months, a situation is returning where residents of the south must again run to shelters. This situation is intolerable, unacceptable, and we must put an end to it."
"We must not be complacent," said Yair Farjun, chairman of Hof Ashkelon Regional Council.
"The war between them inside the Strip does not interest us… It should be made absolutely clear to the other side that we are not willing to take either a flotilla or fire from Gaza," Farjun continued, referring to the announcement by MK Bassel Ghattas that he would join a flotilla that he says is meant to provide humanitarian aid to Gaza.
"The next war's investigative committee should begin its work now and not when the IDF is forced to launch a military operation after months of fire on civilian settlements," said MK Chaim Yellin, formerly chairman of Eshkol Regional Council. Sdot Negev Regional Council Chairman Tamir Idan also noted that the United Nations Human Rights Council's report on Operation Protective Edge had been released only a day earlier.
A number of rockets were fired at Israel from Gaza in the last few weeks. On June 11, a siren sounded in the Ashkelon area, also around 10 PM. The IDF later announced that the siren was prompted by a rocket launch from Gaza that landed inside the Strip.
Around 9:30 PM on June 6, a rocket exploded in an open area in Ashkelon, after which the AIF struck terror infrastructure in the northern Gaza Strip.
Gaza has recently seen attempts by Salafists to challenge Hamas rule and fire rockets despite the existing ceasefire. A senior Salafist leader in Gaza said his people could not tolerate the reality of Hamas persecuting, arresting, and killing them.
He added that the militants intended to continue firing rockets at Israeli targets, but claimed the intention was to trigger a civil war with Hamas -- not to drag the Palestinians into another conflict with Israel.