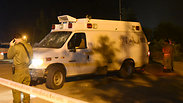 The ambulance that came under attack in Majdal Shams
Photo: Avihu Shapira
Police said Wednesday it arrested nine people overnight who are suspected of involvement in two attacks earlier this week on military ambulances transporting wounded from Syria for treatment in Israel.

Police also searched the suspects' homes in Druze villages in the Galilee and the Golan Heights.

Inflamed by media reports suggesting some of the hundreds of wounded Syrians admitted to Israel for medical care belong to jihadi rebel groups fighting the Druze in Syria, the crowds of Druze blocked two army ambulances for inspection.

Early Monday morning, an IDF ambulance transporting wounded Syrians was attacked in the Druze local council of Hurfeish. One of the rioters was run over by the ambulance and taken to a Nahariya hospital for treatment.

Late Monday night, another ambulance was attacked in Majdal Shams. The ambulance managed to flee the lynch mob but attacked again in Neve Ativ, where one of the wounded Syrian rebels it was transporting was killed, while the other was critically wounded. An IDF doctor and another soldier were lightly wounded in the attack.

The Nazareth Magistrate's Court decided on Wednesday to extend the remand of two of the suspects in six days.

The Druze have protested Israel's continued treatment of wounded Syrian rebels, while pro-Assad Druze villages in Syria are in danger of being attacked by rebel forces, including jihadists from the al-Nusra Front.

Radical Islamists see the Druze, whose religion is an offshoot of Islam, as apostates to be combated. Druze in Syria and many in the Golan Heights, which Israel captured from Syria in 1967, have long been loyal to President Bashar Assad.

Police increased security over the past few weeks in a hospital in Nahariya where wounded Syrians are being treated, out of fear they will be targeted by Israeli Druze.

Druze leaders condemned the attack at the end of an emergency meeting on Tuesday and urged calm. "This is a criminal act, which completely contradicts the values of the Druze community that is known for generations for its aid and help to others, even when to its enemies. Any act of protest must be done within the limitations of the law. Those involved must be brought to justice," they said in a statement.

The Druze are an important minority in Israel and have influence within the government and the military.

Netanyahu's office said in a statement he would convene Druze leaders on Wednesday with a call "to calm tensions and to say to every Druze citizen of Israel to respect soldiers, law and order and not to take the law into their own hands".

Israel has also signaled it would intervene to prevent a massacre of Syrian Druze, with local media suggesting it might offer refugees from the community safe haven on the Golan.

Reuters contributed to this report.