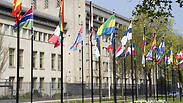 The ICC
Photo: Shutterstock
The Palestinians will submit for the first time on Thursday a document detailing their accusations against Israel of war crimes and violations of international law to the International Criminal Court at The Hague the PA mission in the Netherlands said Wednesday.

The document, spanning hundreds of pages, is in response to a request for information from ICC chief prosecutor Fatou Bensouda rather than an official criminal complaint by the Palestinians.

Israel was also asked to provide information, but it declined, arguing that the ICC has no authority to investigate a Palestinian complaint as Palestine is not a recognized state.

The Palestinians became members of the ICC on April 1, 2015 as part of a series of diplomatic moves to bolster Palestine on the international stage.

According to the Guardian, the Palestinian document will contain three main sections - one dealing with Israeli settlement activity in the West Bank and East Jerusalem, another will deal with the treatment of Palestinian prisoners in Israeli jails and the third will deal with last summer's Operation Protective Edge in Gaza.

The document covers the period between June 13, 2014 to May 31, 2015 and includes Israel's approval of 2,600 additional housing units at Givat Hamatos neighborhood in East Jerusalem, Israeli settlement construction in the Jordan Valley and the killing of four boys on the Gaza beach during the 2014 Gaza war - an incident in which the IDF recently cleared itself of criminal culpability.

The Palestinian document will be filed days after a report by the UN Human Rights Council on the Gaza war, which accuses both Israel and Palestinian factions in Gaza of possible war crimes and calls on international courts to bring those responsible to justice.

Palestinian official Ammar Hijazi told the Guardian the complaint "draws a grim picture of what Israel is doing and why we think that there are reasonable grounds … for the prosecutor to start investigations."

Following the submission of the Palestinian complaint, the ICC will have to determine whether to launch an initial investigation into the allegations. Palestinian officials said they reserve the right to make their own formal criminal complaint to the ICC if the court decides not to take steps against Israel.

A Palestinian official told the Guardian that this submission to the ICC would not the only one. "The object is to prove to the court the gravity of the crime. It is about showing a process in the time period covered. If the ICC decides to proceed with an investigation on any of the cases contained we will then provide more detail," the official said.

Palestinian official Mustafa Barghouti, who helped compile the document, told the Guardian it would have both short term and a long term effects. "In the long term it is necessary because those who commit war crimes should be brought to justice. In the short term it is about ending Israeli impunity," he said.