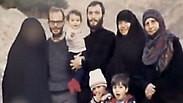 The Mughniyah family in Teheran circa 1987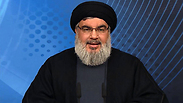 Influential Hezbollah members have openly criticized leader Hassan Nasrallah's decision to appoint Mustafa Mughniyah as a commander on the Golan front, Saudi newspaper Al Watan reported on Wednesday, quoting Hezbollah officials.

Mustafa Mughniyah is the son of Imad Mughniyah – a major Hezbollah commander, who was assassinated in Syria in 2008, and the brother of Jihad – who was killed in an airstrike in the Syrian Golan in 2015. Both assassinations were attributed to Israel, which denied being behind the killings.

Nasrallah's critics stated that the Golan front was among the Lebanese terror organization's most important fronts, and that appointing someone on the basis of personal connections was unacceptable.

The Hezbollah sources claimed that the organization was trying to appease the Mughniyah family, and that there are other ways to do so.

Related stories:

The source also said that even though the organization has been around for 30 years, and has become a strong political force, the appointment process inside the organization is still based on appeasement and connections rather than professional criteria.

The Saudi newspaper reported that "media sources" had stated that Jihad Mughniyah's appointment as the commander of the organization's Golan front was backed by Nasrallah and Iran Quds force commander Qassem Suleimani.

Jihad Mughniyah was authorized to build an operational military unit in the area, even though he had no experience, and was not rooted in the Syrian conflict.

Al-Watan, like other Gulf newspapers, tends to publish frequent reports against the terror organization and its sponsor Iran, especially in recent weeks. These reports are part of a larger media war between the sides, however it seems as though Mustafa Mughniya's name is starting to pop up more and more recently, as he rises through Hezbollah's ranks.