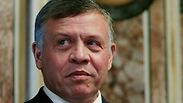 King Abdullah of Jordan
Photo: Reuters
Jordanian newspapers quoted a message Wednesday from the Israeli embassy in Amman, in which it asked the Hashemite Kingdom's media to refrain from praising attacks against Israelis.
The message referred to an article in Jordanian newspaper Ad-Dustour entitled "We have to rely on the heroic acts in the West Bank and Jerusalem".
The article praised the recent attacks in Jerusalem and the West Bank and the Israeli embassy's message forcefully came out against the author, claiming that he is increasing the tension between the Israelis and the Palestinians. The heading of the Embassy's message argued that it amounted to "incitement to kill Israelis in a Jordanian newspaper."
The message said that "The Israeli Embassy expresses its disgust and its absolute opposition to such shameful words that call to harm innocent civilians. This is incitement to killing and violence in every meaning of the word."
The message also stated that "we expect the publication of such barbaric articles, that are likely to cause damage and injury to civilians and to increase tension between the Israelis and the Palestinians, to cease."
It has been a while since the Israeli embassy in Jordan has tried to print messages in Jordanian newspapers, and so far the Kingdom's media has refused to publish them. Only after the insistence of embassy spokesman Gilad Nol, was it ultimately decided to refer to Israel's message.
The Foreign Ministry said in response that "the Israeli embassy in Jordan follows the Jordanian media and responds through their Facebook page regarding every publication containing anti-Semitism or incitement to terror.
"This is a praiseworthy and important activity. This is what was done this time and we are pleased that the Jordanian media chose to report the the embassy's reaction."