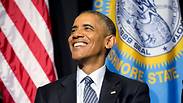 US President Barack Obama
Photo: AP
A group of prominent American security advisers, including five with ties to President Barack Obama's first term, warned on Wednesday that a deal on curbing Iran's nuclear program was at risk of failing to provide adequate safeguards.
In an open letter, the group of former US officials and foreign policy experts cautioned that an Iran nuclear deal would "fall short of meeting the administration's own standard of a 'good' agreement" unless it included a tougher line on United Nations nuclear inspections and conditions for sanctions relief.
The release of the letter, which was signed by Dennis Ross, an adviser on Iran and the Middle East in Obama's first term, comes as US Secretary of State John Kerry prepares to fly to Vienna on Friday to join the talks.
"Most of us would have preferred a stronger agreement," the letter released by the Washington Institute said. "The agreement will not prevent Iran from having a nuclear weapons capability. It will not require the dismantling of Iran's nuclear infrastructure. It will, however, reduce that infrastructure for the next 10 to 15 years."
The letter also urged the Obama administration to affirm as a matter of policy that Iran would not be able to produce or attain fissile material for a weapon. " Precisely because Iran will be left as a nuclear threshold state (and has clearly preserved the option of becoming a nuclear weapon state)," said the letter, "the United States must go on record now that it is committed to using all means necessary, including military force, to prevent" such a possibility.
Furthermore, the bipartisan group acknowledged concerns that an agreement could encourage Iran to continue bolstering its military capabilities, support for proxies, and regional interventions.
It thus proposed a number of regional initiatives to assist US allies in Iraq, Syria, and Yemen, as well as efforts to "interdict Iranian arms bound for extremist groups".
Ross told Reuters it was vital that negotiations were not driven by a deadline but by "getting it right."
"The Iranians must understand that we will catch them if they cheat and that the price will be high even for lesser transgressions," Ross said. "And, they must know that we will not permit them to have a weapons capability."
Ross said administration officials with whom he had spoken said the principles outlined in the letter were contained in an April 2 interim agreement between Iran and world powers in Lausanne, Switzerland.
A senior US official said the letter "in large part tracks with the US negotiating positions inside the room."
Negotiations between Iran and six major powers - the United States, Britain, Germany, Russia, China and France - are aimed at reaching an agreement by June 30 under which Tehran would curtail its nuclear program in exchange for sanctions relief.
Negotiations are widely expected to slide past a self-imposed June 30 deadline.
Recent developments have Just days ago, Iran's parliament passed a bill banning access to military sites and scientists. Iranian Supreme Leader Ayatollah Khamenei ruled out freezing Iran's sensitive nuclear work for a long period and said all sanctions imposed on the country should be lifted immediately.
In addition to Ross, the letter was signed by David Petraeus, former CIA director and US commander in Iraq, Robert Einhorn, a former member of the US negotiating team with Iran, retired US General James Cartwright and Gary Samore, an Obama adviser on nuclear policy turned president of the advocacy group United Against Nuclear Iran.
The letter was also signed by Stephen Hadley, a national security adviser to both former President George W. Bush and his brother, Republican presidential contender Jeb Bush.
Any deal would face fierce opposition from Republicans who have argued the Obama administration is readying a deal that would leave Iran with a clear path to making a nuclear weapon.
Kerry, speaking to reporters on Wednesday evening, said it was too early to say if negotiators could clear the last outstanding issues.
"If they are not addressed, there will not be a deal," he said. "We have been very clear that we are not going to negotiate in public."
Reuters contributed to this report.