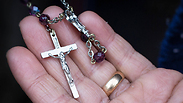 'A major show of forced conversion' (illustration)
Photo: Getty Images
The Jerusalem Municipality has decided to consult the city's rabbis before approving any Christian event that may include missionary activity.

The decision came after ultra-Orthodox officials expressed their anger at the Municipality and the management of the city's multi-purpose sports arena

Religious Clash

Dozens of Jewish worshippers forcibly removed by police from David's Tomb compound after trying to prevent priests from praying at the place, which is revered by Christians as site of Jesus' Last Supper.

for allowing Christian organizations to hold a major conference at the venue last month. The event was eventually held as planned despite the haredi outcry, but the Municipality decided to give in to the haredi demand concerning any future events.

Thousands of Christians from around the world participated in last month's conference at the new sports arena despite the haredi protest, which defined the event as a "major show of forced conversion."

The haredi media asserted that the event was aimed at convincing Jews to join Christianity with the help of missionaries who had arrived in Israel for that very purpose. The city's rabbis also intervened and asked the Municipality to call off the event, but their demand was rejected due to legal issues.

Following the protest, the haredi representatives in the Jerusalem Municipality reached an agreement with Mayor Nir Barkat that in future events, the city's rabbis and legal advisors will be consulted before the permits are issued.

The Jerusalem Municipality offered the following response: "It has been decided that in future events, in case concerns are raised about illegal missionary activity, Jerusalem's chief rabbis and the Municipality's legal advisors will be consulted."