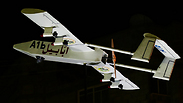 A miniature drone penetrated Israeli airspace on Thursday afternoon, crashing in an open area near the border fence in the southern Gaza Strip.

The craft was identified in the skies of Gaza at approximately 1 pm, prompting IAF fighter planes to be scrambled towards it. The drone eventually fell to the ground without any injuries. Military engineers arrived at the scene to examine it.

The drone was under surveillance from ground and air during its entire 40-minute flight.

Last summer, on the seventh day of Operation Protective Edge, an unmanned aerial vehicle (UAV) produced by Hamas penetrated Israeli airspace. It was eventually intercepted by a Patriot battery in the Ashdod area.

The military wing of Hamas claimed it had launched that UAV for "special operations" deep inside Israel.

The IDF has faced enemy UAVs in the past. On August 14, 2006, the final day of the Second Lebanon War, Hezbollah attempted to send multiple drones into Israel. One crashed as a result of a technical malfunction before reaching Israel.

The other was identified and downed by IAF planes in the western Galilee. A week before that, another drone was downed over the sea. Additionally, last year the IDF said it had intercepted a Hezbollah UAV above the sea near Haifa.