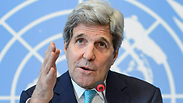 US Secretary of State John Kerry at the UN
Photo: EPA
A new report by the US State Department published on Thursday criticizes Israeli actions in the West Bank and Gaza, citing alleged "excessive use of force against civilians, including killings; abuse of Palestinian detainees, particularly during arrest and interrogation."

The Country Reports on Human Rights Practices for 2014 cover dozens of countries around the world, including Israel and the "occupied territories" in addition to alleged major human rights violators like Russia, Iran, and China.

Other claims about Israel's human rights violations in the West Bank and Gaza include "austere and overcrowded detention facilities; improper use of security detention procedures; demolition and confiscation of Palestinian property; limitations on freedom of expression, assembly, and association; and severe restrictions on Palestinians' internal and external freedom of movement."

The report also noted violence by settlers against Palestinians was a persistent problem, as well as "inconsistent punishment of these acts by Israeli authorities."

The report also addresses Israel's restriction on travel for Palestinians in the West Bank, saying it "affected virtually all aspects of life, including access to places of worship, employment, agricultural lands, schools, and hospitals, as well as the conduct of journalistic, humanitarian, and NGO activities."

A section about torture discusses human rights organizations' accusations that interrogation methods used legally in Israel may amount to torture. Israel reportedly used interrogation techniques on minors that groups said were abusive.

Regarding Hamas, the report says human rights abuses under its rule included "security forces killing, torturing, arbitrarily detaining, and harassing opponents, including Fatah members, and other Palestinians with impunity", launching rockets at civilians from civilian areas, poor prison conditions and public executions without trial, limiting the freedoms of speech, press, assembly, association, religion, and movement, abuse of women and children, discrimination based on sexual orientation, and forced labor, including by children.

The document notes specific examples, such as reports that Hamas "unlawfully executed at least 55 persons in the Gaza Strip during Operation Protective Edge for allegedly collaborating with Israel". Reports of prisoner abuse and torture were widespread, with at least 442 claims being filed.

The report was presented by US Secretary of State John Kerry less than a week before the current deadline for an agreement with Iran over its nuclear program. The report on the Islamic Republic says major problems include "severe restrictions on civil liberties, including the freedoms of assembly, speech, religion, and press; limitations on the citizens' ability to change the government peacefully through free and fair elections; and disregard for the physical integrity of persons, whom authorities arbitrarily and unlawfully detained, tortured, or killed."

Iran claims it executed 268 people last year, but human rights organizations say the true number is 721. A litany of further purported abuses includes disappearances, deaths of detainees, incitement to anti-Semitism, and restricted freedom of speech and press, as well as many others.

More than 1,000 political prisoners and 30 journalists currently sit in Iranian prison. Authorities also randomly invade family's privacy in their homes. Iran also limits investigations by NGOs investigation human rights abuses.

The report further notes that 217,851 people were in Iranian prison last year. About a quarter of the Iranian population has been arrested at some point.