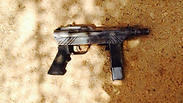 Gun used by attacker
Photo: IDF Spokesman
A Palestinian was shot dead by IDF fire on Friday at the Bik'ot checkpoint, near Route 90 and about 30 kilometers south of Beit She'an. No soldiers were wounded and the site was declared a closed military area.

The soldiers belong to a reserves brigade operating in the area. Colonel Ofir Livius, commander of the Jordan Valley battalion, arrived at the scene to investigate the incident.

Earlier this week an 18-year-old Palestinian stabbed a border police soldier at the Damascus Gate in Jerusalem. The soldier, who was severely wounded, had time to shoot at the terrorist, seriously wounding him.

Rescue personnel called to the scene treated both and evacuated them to local hospitals.

In April 2012, a Palestinian killed while trying to cross Bik'ot was found to be concealing improvised explosive devices, three knives, and rifle bullets.

Three months before that, a terrorist armed with a pipe bomb and approaching IDF troops was killed when he refused orders to stop.