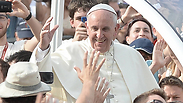 Pope Francis greets Catholics
Photo: AP
The Vatican on Friday signed a historic first accord with Palestine, two years after officially recognizing it as a state.

The accord, a treaty covering the life and activity of the Church in Palestine, was the first since the Vatican recognized the Palestinian state in February 2013.

The treaty, which took 15 years of negotiations to complete, was agreed in principle last month and bitterly condemned by Israel as a setback for the peace process.

The Vatican's recognition of the state of Palestine followed a November 12 vote in favor of recognition by the UN General Assembly.

Vatican officials have described it as reflecting the Church's desire to see the conflict in the Holy Land resolved by a "two-state" solution.

The Foreign Ministry released a statement expressing regret at the Vatican's decision. "This hasty step damages the chances of reaching a peace agreement and harms the international effort to convince the Palestinians to return to the negotiations table for direct talks with Israel," it read.

The statement also said the wording of the agreement was one-sided. "Israel cannot accept the one-sided assertions in the agreement, which do not take into consideration Israel's vital interests and the singular, historic status of the Jewish people in Jerusalem."

The Palestinian Authority considers the Vatican one of 136 countries to have recognized Palestine as a state, although the number is disputed and several recognitions by what are now European Union member states date back to the Soviet era.

The Vatican has had diplomatic relations with Israel since 1993 but has yet to conclude an accord on the Church's rights in the Jewish state which has been under discussion since 1999.