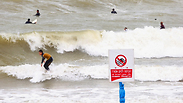 Sunday's weather will be very different from Israelis are used to at the end of June, with rain from the north to the south, strong winds and a raging sea with waves of 2.5 meters.
Light rain has already begun to fall this morning already in the Haifa area, in the center of the country, and as far south as Ashdod. Meteo-Tech forecaster Nahum Malik said this morning: "In some places we're dealing with more powerful rain, and that's what is expected this morning."
A significant drop in temperatures will be felt today and it will be cloudy. Meteo-Tech reported that gusty wings are expected and haze is also possible.
The following are the temperatures forecasted for today and tonight: Kiryat Shmona- 19-28, Katzrin- 18-27, Safed- 16-24, Tiberias- 23-33, Nazareth- 19-27, Haifa- 23-27, Tel Aviv- 23-27, Jerusalem- 17-24, Ashkelon- 22 27, Ein Gedi- 27-36, Be'er Sheva- 21-29, Arad, 17-26, Mitzpe Ramon- 17-26, Eilat- 26-38.
The inclement weather is predicted to continue tomorrow. It will continue to be partly cloudy with no significant change in temperatures. There is still a chance of morning drizzle in the north and along the coastal plain.
During the rest of the week it will start to heat up. On Tuesday, temperatures will rise slightly and will be partly cloudy to clear. Wednesday temperatures will rise again and it will be pleasant.