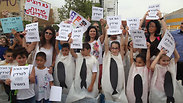 Photo: Moti Kimchi
Photo: Moti Kimchi
Elementary schools in 81 towns across Israel stood empty Sunday morning as students and parents took to the streets in strike against the nation's crowded classrooms which protesters say degrades the quality of education provided to Israel's youth.

Ortal Schnitzer, the leader of a protest movement in Holon dubbed the "sardine's protest," stated Sunday that many elementary classrooms accommodate as many as 40 students. "The state in Holon's classrooms specifically and the rest of the country, prove the sad state of the education system in Israel, a reality in which there is no chance for students to be successful, understand and learn."

The Education Ministry led by Bayit Yehudi Chair Naftali Bennett, called on parents to send their children to school, saying in a statement that teachers would be at work as usual on Sunday and that school would continue as normal. Most of the classrooms in the 81 towns who declared their support for the protesters however, stood empty.

"In a class of 38-40, students don't receive individual attention, the weaker students don't get help and get pushed off to the corner and strong students don't have the opportunity to advance their skills," said Schnitzer.

After the announcement of the strike planned for Sunday, the National Parent's Organization said that it does not support the movement or the actions of the local Parent's committees.

While the education ministry called on kids to attend class as normal, officials also stated that, "The ministry will continue to address the various issues before it, including that of reducing the teacher-to-student ratio."