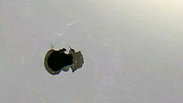 Damage to MDA ambulance from bullet
Photo: Tazpit News Agency
Shots were fired Saturday before midnight at a Magen David Adom ambulance near the West Bank settlement of Beit El but no injuries were reportes as of Sunday afternoon.
The damage to the ambulance was clearly evident, apparently from 9mm bullets. After the incident Israeli forces launched searches for suspects in the nearby village of Beitin.
An examination of the scene of the attack near Beit El indicate that a burst of 15 to 19 shots were fired at the Israeli ambulance and at least four of them hit it. The perpetrator fired from the area near the new road that connects Beitin to Ramallah, a road recently paved for the Palestinians. Forces from the all-Haredi Netzach Yehuda Battalion, in charge of the area, led by Colonel Yisrael Shomer, were sent to the scene.
A large amount of soldiers began searching the area to locate the shooter or shooters. Some searched Beitin village south of Beit El. The area where the shooting occurred was closed to traffic for a time.
MDA Director General Eli Bin said in response: "Magen David Adom, the national rescue organization of Israel, consider this incident to be a grave one, which represents a crossing of the red line of trying to deliberately harm a vehicle which treats the wounded and sick, and does evacuations.'
"We are sure that the security forces working around the clock will utilize the justice system to the fullest regarding those responsible, and we hope the Palestinian side will act decisively and firmly in order to prevent similar incidents in the future."
A burst of bullets was fired from the bend in the road before the West Bank Division headquarters near the village of Beitin, at an ambulance from the Jerusalem district. The driver was paramedic Shalom Galil, a Beit El resident in charge of the Benjamin region of the West Bank.
The Beit El council blamed the security establishement which opened the road to Beitin to Palestinian traffic. "The road was closed for more than ten years due to security problems," council head Shai Alon said.
"When it was recently decided to reopen the road I warned the general commanding officer (GCO), the minister of defense, the transport minister and the coordinator of West Bank activities, of the security and traffic risks at the site. The GCO decided to reopen the road anyway, but already on Sunday there was a security incident which led to the road's closing," he added.
"This evening, the attacks originated from the road and the terrorists fled after attacking the ambulance, whose driver was not miraculously injured. The writing was on the wall, and we demand from the security establishment not to open the road, and to also shut its other end so that terrorists will not be able to approach Beit El and escape," he concluded.