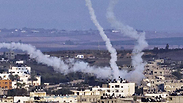 Code red sirens were heard in the Hof Ashkelon Regional Council late Sunday morning when the IDF confirmed observing a launch, but said that the rocket had seemingly landed inside the Gaza Strip.
The siren heard in Hof Ashkelon marked the fourth rocket fired at Israel in the last three weeks. Just last week the Israeli Air Force struck a target in the northern Gaza Strip after a rocket attack from Gaza.
A number of rockets were fired at Israel from Gaza in the last few weeks. On June 11, a siren sounded in the Ashkelon area, also around 10 PM. The IDF later announced that the siren was prompted by a rocket launch from Gaza that landed inside the Strip.
Around 9:30 PM on June 6, a rocket exploded in an open area in Ashkelon, after which the AIF struck terror infrastructure in the northern Gaza Strip.
Gaza has recently seen attempts by Salafists to challenge Hamas rule and fire rockets despite the existing ceasefire. A senior Salafist leader in Gaza said his people could not tolerate the reality of Hamas persecuting, arresting, and killing them.
He added that the militants intended to continue firing rockets at Israeli targets, but claimed the intention was to trigger a civil war with Hamas -- not to drag the Palestinians into another conflict with Israel.