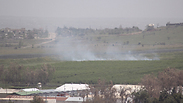 Photo: Eli Segel/Archive
Photo: Eli Segel
Code red sirens sounded twice in the Golan Heights Sunday afternoon, suggesting possible misfire from Syria as has occurred several times since the beginning of the Civil War in Syria.
The IDF said the sirens were seemingly turned on due to fire in on-going combat across the border in Syria. No injuries or damage was reported. Security forces were said to be searching the area.
An IDF Spokesperson said fighting has been on-going between rebel groups near the border in Syria since Sunday morning.
A Code Red siren sounded in the Golan Heights some two weeks ago as the result of fighting between rebel groups across the Syrian border.
Sirens were also heard in the Hof Ashkelon Regional Council earlier on Sunday when the IDF said that a rocket may have been launched, but seemingly landed inside the Gaza Strip.