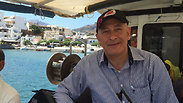 Ghattas
Photo: Balad Spokesman
Joint Arab List MK Basel Ghattas sent a written message to Prime Minister Benjamin Netanyahu and Defense Minister Moshe Ya'alon on Sunday, warning to keep security forces away from the flotilla in which he is taking part, meant to break the Israeli naval blockade of the Gaza Strip.

"Command the security forces to allow us to enter Gaza and avoid the use of force," read the letter from Ghattas.

The flotilla is currently in the middle of the Mediterranean Sea and is expected to reach the shores of Gaza on Monday afternoon.

The flotilla set sail from Crete overnight Thursday, according to the Palestinian news agency. Ghattas' participation in the flotilla has created a storm in Israel with government officials calling for his resignation.

Ghattas and the other activists on the flotilla claim they intend to bring humanitarian materials to Gaza, but Israeli officials remain wary after the Mavi Marmara incident in which a flotilla joined by MK Haneen Zoabi tried to reach Gaza, but violently clashed with Israeli commandos off shore.