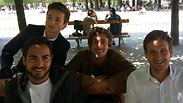 Young French Jews
Photo: Roi Yanovsky
Jews in Paris: If you're pro-Israel in France, you're finished!
While armed soldiers are sent to secure synagogues in the French capital, members of the country's Jewish community say it is not enough; 'There are areas in Paris where you can't show that you're a Jew. If you enter the Metro with a kippah, you'll have a problem.'
PARIS - If locating synagogues in the alleyways of Paris used to be a complicated navigational task, lately it has become easy to spot them by the soldiers stationed outside.

After the terrorist attack near Grenoble on Friday, armed soldiers were deployed to secure synagogues.

Outside La Tournelle Synagogue in Paris there were no less than seven armed soldiers, who were questioning passersby and asking them to take pictures only from a distance. At the Place des Vosges Synagogue, seven armed soldiers were providing security to a bar mitzvah celebration taking place there.

The young Jews we met outside the synagogue told us that at the beginning of prayer services there were no less than 20 armed soldiers outside. This is also the situation at Jewish schools.

There is a big question mark hanging over the future of France's large Jewish community, numbering about half a million, with the rise of radical Islam in the country and the recently added threat of terror attacks.

The young Jews we met paint a complex picture: They are more careful about displaying their Jewish identity, and fear anti-Semitic incidents and terror attacks. Some believe that immigration to Israel or the United States is the solution. Others believe that this would only reward the terrorists.

Related stories:

The increase in interest in Aliyah to Israel is clearly reflected in the statistics. The Masa Israel Journey project, which allows Jews from all over the world to spend several months in Israel and integrates them into Israeli society, noted a 77 percent increase in the number of Aliyah cases opened at the Jewish Agency in the first quarter of 2015 (5,201 people compared to 2,936 last year). Furthermore, Masa Israel data shows a jump of 110 percent in the number of participants in Aliyah information seminars.

Some 2,500 French olim are expected to arrive in Israel during July and August, an all-time record high for the "summer Aliyah", which is mainly composed of families. By comparison, the number of olim during the same period last summer was half that amount.

Masa Israel Journey held a "last call" event in Paris on Sunday for young French Jews who are interested in participating in the project. According to Masa, there is increased interest in their programs. Masa's Director-General, Liran Avisar Ben Horin, said that

"Over the past year, we have witnessed a dramatic increase in the number of French youths participating in Masa. These are numbers we had never experienced. It is apparent that more and more young Jews are asking themselves questions about their future and are deciding to experience a year of living in Israel. There is no doubt that the anti-Semitic attacks in Toulouse and the Hyper Cacher supermarket undermined the stability of the French-Jewish community. More and more young people are exploring alternatives. Israel is in competition with many other countries who want brilliant minds and talented young people, and therefore Masa constantly refines the experiences and programs it offers young Jews who are considering emigrating from Europe. "

Solel Sabah, 21, a Jewish student who lives in Paris, told Ynet that other than some safe areas in the center of Paris, which he describes as a "bubble," there are many places where it is not advisable to walk around wearing a kippah.

"There are areas in Paris and in its suburbs where you cannot show that you are a Jew. If you enter the Metro with a kippah, you will have a problem. It has always been like that for us. For our parents, maybe not."

Yaakov Ben-Said 25, a Jew who lives in Paris and works in hotel management, claims that the areas where you can still walk around with a kippah are becoming more and more scarce.

"I disagree with the term 'bubble' - it is in fact a 'mini-bubble.' 500 meters from where we are standing right now I would not walk around with a kippah. Even at 2 am I wouldn't not wear a kippah, and I will not tell anyone I'm a Jew."

Nathan Sabah, 23, a high-tech entrepreneur, says that hiding one's Judaism does not just mean not wearing Jewish symbols, but also fearing to show solidarity with Israel.

"When there is war, as there was last summer, you cannot say you are against the Palestinians or pro-Israel in the streets," he says. "You do not want to explain to someone why Israel has to do what it does and why people die in war. If you start explaining something and they think you are pro-Israel – you are finished! You can not say such things in the Metro or in place with a lot of people. If you are at a café talking about the situation in Israel with the Palestinians, you cannot raise your voice."

Sabah adds that the terrorist attacks in Toulouse and Paris were a turning point.

"The situation was always difficult but now we see it every day. Things have changed - Toulouse, Hyper Cacher, Charlie Hebdo - and look what happened yesterday (the Grenoble attack). What will we do in a year if something like what happened at Hyper Cacher happens again? Friends of mine say that when they go to a kosher supermarket to buy something and see someone suspicious, they do not go in. There are Jews afraid to go to any kosher places."
'We are here, but are planning to leave'
According to the Jewish youth we met outside the synagogue, the Jewish community in France is divided as to the solution. Many have friends who left France and decided to make Aliyah, but they are not sure that it is the right solution.

"They (the olim) say they are afraid and they want to go," says Yaakov. "They think that France is not doing anything and it is hard to be a Jew in France. I understand it if they are not feeling good in France, but I think the solution is to stay here. We cannot leave Paris because it is not safe. We have to walk around with a kippah and show that we are here. We cannot allow those who do not want us here to win. If we want to fight, then we cannot be afraid to go out with a kippah and show that we are Jews."

Yaakov Ben-Said wants to stay in France, but he does not hide the fact that he is preparing for bad scenarios.

"I do not have a good feeling about the future. I hope for the best but do not know. We have to stay but at the same time must prepare for the day we will have to leave. That's what I do, I live my daily life but prepare myself for the day I have to leave. That's why people are buying apartments in Israel. "

It appears that what angers the young Jews is that their fellow countrymen do not understand the difficult situation the Jews find themselves in.

"They are interested in what happened at Charlie Hebdo but not in what happened at Hyper Cacher," explains Sabah. "They are not saying Hyper Cacher was against the Jews and they refer to it as a much smaller event than Charlie Hebdo."

Yaakov agrees, adding that "They do not understand us. They are not familiar with Israel's history nor with the history of the Jewish people. They see the images of war with the Palestinians in Gaza and do not delve deeper into the subject. They need to learn about the conflict. French friends of mine who thought that way traveled to Israel and returned feeling differently after only five days. They wanted to be Jews and returned with a kippah on their heads."

Moreover, they argue that despite the big improvement in the security arrangements around Jewish institutions, they feel that the French authorities do not really know how to deal with the security threats.

"On the one hand, when we got here this morning, I saw more soldiers than ever before, there were about ten soldiers an hour ago. I have never seen so many soldiers and police in front of synagogues."

On the other hand, he says, "in Israel you feel that they are protecting you. Sometimes something happens and you know that the police and Magen David Adom will arrive quickly. The Hyper Cacher attack lasted five hours and no one knew what to do. I was in Israel during Operation Protective Edge, it was worse than what happened in Paris in January (Hyper Cacher): Missiles were being fired, but you knew that they were protecting you. True, in France you see soldiers but now the prayer services are over and they have left. If there is an attack, they will not respond as Israel does. In France you have the feeling that someone can do something and the police and the government will not tell you anything."
Integration problems
The young Jews we talked to emphasized that making Aliyah is not a simple process. They say that after inquiring they discovered that there are French degrees and professional certificates that are not valid in Israel, and unless they do all sorts of internship programs, their economic future in Israel is likely to be highly uncertain.

"It is very difficult to find a good job and really integrate into Israeli society. Friends of mine who made Aliyah said that they could not find work in Israel," said Solal Ben-Said.

"Most olim have good diplomas and could find better jobs in France, but they are willing to lower their standard of living in order to live in Tel Aviv or in another Israeli city. Even those who made Aliyah have not entirely left France. They come back for a few months every now and then, and there are some that may return to France for good. It's too early to say whether the olim who came to Israel following the recent attacks will return or not, we will have to wait a year or two."