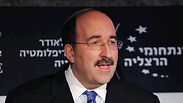 Dore Gold
Photo: Uri Porat
For the first time since 2011, the Foreign Ministry's director-general, Dore Gold, visited Egypt on Sunday to discuss how to re-launch peace talks with the Palestinians, which have been stalled since last year.

Gold met senior Egyptian officials to discuss "how to push the peace process forward," Egypt's state news agency MENA reported, citing Egyptian Foreign Ministry spokesman Badr Abdelatty. Among others, Gold met with Deputy Foreign Minister Osama Almajdoub.

Israel's Foreign Ministry also confirmed the visit in a statement.

A statement released by the Egyptian Foreign Ministry said that "the Palestinian issue was raised in the meeting, as Cairo is a main player and sponsor of this issue. The solutions to promote the peace process were at the top of the agenda for the consultations, and ways to restart talks between the Palestinians and Israel were discussed."

Almajdoub, the statement said, "stressed Egypt's unchanging positions regarding the Palestinian issue and the importance of reaching a just, inclusive and sustainable solution based on the principles of international legitimacy and UN resolutions."

Almajdoub told Gold that any accord between Israel and the Palestinians must be based on the two-state solution and lead to the formation of an independent Palestinian state.

The Egyptian official also said that the Palestinian issue was "the heart of the conflict in the region, it is the Arabs' central problem, and its solution is a basic condition to reaching stability in the region."

Gold's visit to Cairo came a week after Egypt appointed its first ambassador to Israel since 2012. Egypt has also recently shown willingness to allow Israel to open a new embassy in Israel, after the previous one was evacuated in September 2011, when rioters tried to take it by force. Israel has already found a lot to buy, where the embassy will be built, and is currently examining the issue due to the high costs that are entailed in the move - tens of millions of shekels.

Israel and Egypt's military-run government, which orchestrated the removal of Islamist President Mohamed Morsi in 2013, share common concerns about militants active in Egypt's Sinai peninsula as well as the Islamist group Hamas, which dominates the Gaza Strip.

Israeli security and intelligence officials held talks in Cairo during last summer's Gaza war as part of a successful Egyptian bid to broker a ceasefire between Israel and Hamas.

The Israeli Foreign Ministry and MENA portrayed Gold's visit as routine, saying it stemmed from his recent appointment to his post as director-general.

Roi Kais and Itamar Eichner contributed to this report.