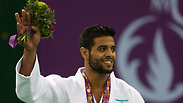 Sagi Muki
Photo: Oren Aharoni
The 2015 European Games wrapped up in Baku on Sunday, with Israel amassing a haul of 12 medals.

Saturday brought a gold medal for 18-year-old Ziv Kalontarov, who finished the men's 50-meter freestyle in 22.16 seconds, breaking the Israeli record set two months ago and qualifying him for the 2016 Summer Olympics in Rio de Janeiro.

The win came two days after swimmer Marc Hinawi, also 18, took bronze in men's 1500 meter freestyle.

Judo wrestler Uri Sasson, 24, on Friday took silver in the over 100 category, beating rivals from the Czech Republic, Romania, the Netherlands, and Russia before being defeated by the Georgian Adam Okruashvili.

Israeli judo wrestlers took two other medals as well. On Friday, Sagi Muki, 23, became the first Israeli to win gold at the games and the third to be crowned European champion. Muki has been coached since the age of four by Olympic medalist Oren Smadja.

Also Friday, Yarden Gerbi – Israel's top female judo wrestler – won a bronze medal.

The earlier part of the games, which started on June 12, also saw multiple Israeli successes.

The gymnastics team won two silver medals and one bronze in group events, while Neta Rivkin, Israeli Olympic gymnast won bronze for the Solo Hoops event.

The gymnastics wins follow Sergey Rikhter's bronze from June 16 for Men's 10 meter air-rifle, and Ilana Kratysh's silver for Women's Freestyle Wrestling form 15 June.

The 2015 European Games in Baku are a first edition of continental games contested by athletes from European nations, and are governed by the European Olympic Committees.

Michael Zeff of the Tazpit News Agency contributed to this article.