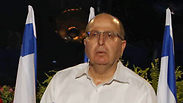 Defense Minister Moshe Ya'alon
Defense Minister Moshe Ya'alon said on Monday it had conditioned humanitarian aid to select Syrian rebel groups on its border - on them not harming the Druze minority in the country's civil war.

The Druze in Syria have long been loyal to President Bashar Assad, and their brethren in Israel and the Golan Heights; who have been lobbying the government of Prime Minister Benjamin Netanyahu to safeguard the community.

The government, however, has sought to keep out of the more than four-year-old insurgency against Assad, an old foe who, they fear; may be toppled by more hostile Islamist militants.

Related stories:

But in a rare spillover of Syria's sectarian conflict into the Golan, a Druze mob last week beat to death a civil war casualty who was being taken by ambulance to Israel, where hundreds of Syrian wounded have received treatment during the conflict.

Israel has said it has also sent food and water across the frontier.

Briefing reporters on Monday, Ya'alon said that, from the outset, Israel knew there were rebels among those it was helping and; "placed two conditions on this aid - that terrorist groups not approach the fence, and that the Druze not be touched".

He was referring to the southern Syrian Druze village of Hader on which rebels have encroached, setting off solidarity protests in the Golan where the Druze are an Arab minority with influence in the military and government.

Another Israeli defense official said that while Israel has not refused medical treatment to any Syrian approaching its lines; "later, when it became clear that they were rebels, we made sure that they understood we expected our conditions to be kept".

The official said he knew of no cases of Israel helping members of Nusra Front, an al Qaeda offshoot in Syria which has beset the Druze. Rather, the official said, Israel has engaged mainly with non-jihadist rebels like the Free Syrian Army.

The "terrorists" referred to by Ya'alon were radical Islamists that are bent on attacking Israel no less than on toppling Assad, the Israeli official told Reuters.

But he allowed that telling them apart from other armed factions "can be difficult".

Ya'alon said Israel's conditions were being upheld, but that the June 22 Druze attack on the ambulance that left one Syrian casualty dead and another seriously wounded may have backfired by "spurring calls for revenge against the Druze in Hader".