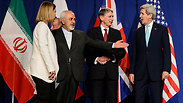 Iran and world powers reach framework agreement
Photo: AP
US Secretary of State John Kerry warned Monday it was too soon to tell if tough negotiations with Iran on a deal curtailing its nuclear program will succeed.
On the eve of Tuesday's deadline, which everyone has already acknowledged will slip, Kerry met with Yukiya Amano, the head of the UN nuclear watchdog.
"We're just working and it's too early to make any judgements," Kerry told reporters when asked if the talks were making progress in Vienna.
One of the thorniest issues still blocking a deal is ensuring that the UN's International Atomic Energy Agency (IAEA) can finally report that Iran's nuclear program is entirely peaceful.
Iran has long denied seeking to arm itself with a nuclear bomb, but is so far refusing to give the IAEA unparallelled access to sensitive military sites where nuclear research may have been happening.
Global powers - Britain, China, France, Germany, Russia and the United States - are seeking to end a 12-year standoff with Iran over its suspect nuclear program.
After 20 months of intense talks, which have criss-crossed the globe, the parties have set a Tuesday deadline for a final accord, with several countries saying they are prepared to walk away if Iran cannot meet their demands.
Behind-the-scenes meanwhile, work continues on drawing up what could be one of the world's most complicated nuclear non-proliferation agreements aimed at putting an atomic bomb out of Iran's reach.
The text is believed to be at least 20 pages long, accompanied by perhaps as many as five complicated technical annexes.
The deal is unlikely to be reached on Tuesday, with a US official admitting that everyone was planning to stay beyond the deadline day.
But EU foreign policy chief Federica Mogherini spoke for many late Sunday when she insisted there would be no formal months-long extension, saying "postponement is not an option".
"I would say that the political will is there. I've seen it from all sides," Mogherini said, adding "we have conditions now to close the deal" saying there were only a couple of point outstanding which needed political decisions.
France's Foreign Minister Laurent Fabius said negotiators have deliberately decided not to set a new date to conclude negotiations. He told a group of reporters that "we have made some progress, but still it is not the end of the process."
The Iranians, he said, have specific questions about how the lifting of sanctions will work "and some other elements," and the six world powers are also "asking some precision," but he refused to elaborate.
Chinese Vice Foreign Minister Li Baodong told reporters in Vienna that a comprehensive deal could be possible within one week, saying all sides were only "steps away," the state news agency Xinhua reported.
Russian Foreign Minister Sergey Lavrov will arrive in Vienna on Tuesday to join Iran nuclear talks, where he will meet with US Secretary of State John Kerry in an attempt to resolve disputes that have forced an extension of the negotiations.
Also on Tuesday, Iranian Foreign Minister Mohammad Javad Zarif will return to Vienna after flying home on Sunday for consultations on how to proceed at the talks.