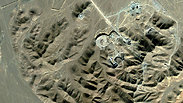 Iran's Fordo nuclear facility
Photo: AFP
A system has been reached in talks between Iran and major powers towards a nuclear deal that will give the UN atomic watchdog access to all suspect sites, a senior US official said Monday.
"The entry point isn't we must be able to get into every military site, because the United States of America wouldn't allow anybody to get into every military site, so that's not appropriate," the official said.
"We have worked out a process that we believe will ensure that the IAEA has the access it needs."
If the system is agreed to by Iran, then it could mark a potential breakthrough in months of negotiations with the Islamic Republic which has refused to give the International Atomic Energy Agency (IAEA) access to sensitive sites.
"There are conventional purposes, and there are secrets that any country has that they are not willing to share," the official said.
"But if in the context of this agreement… the IAEA believes that it needs access and has a reason for that access, then we have a process to ensure that that is given," the official said.
Iran has denied seeking to arm itself with nuclear weapons, but the IAEA has so far been unable to verify that its atomic program is entirely peaceful.
The US official, who asked not to be named, said Washington had long insisted that if the IAEA felt it needed access to a suspect site "then they should be able to get it".
"If that happens to be a military site then that should be available," the official said, adding the IAEA had an "institutional responsibility" to explore what the possible military dimensions of Iran's nuclear program may have been.
Iran's Supreme Leader Ayatollah Ali Khamenei, who has the last say on all state matters, and by top military commanders, have long objected allowing any kind of access - restricted or otherwise - to the country's military sites and to its nuclear scientists.
"The impudent and brazen enemy expects that we allow them talk to our scientists and researchers about a fundamental local achievement but no such permission will be allowed," Khamenei told military commanders in Tehran last month.
Khamenei said interviewing Iranian nuclear scientists would be an affront to Iran's dignity. "No inspection of any military site or interview with nuclear scientists will be allowed."
In comments the ayatollah made last week, he said that "sanctions should be lifted immediately when the deal is signed and it should not be linked to verification by the UN watchdog body."
At the United Nations, French Foreign Minister Laurent Fabius repeated on Monday his country's red lines for an agreement: Stricter limits on Iranian research and development, capacity for UN nuclear monitors to verify the deal and the ability of world powers to snap sanctions back into place quickly if Iran cheats.
France's conditions are essentially the same as America's, whose diplomats have conducted the bulk of the negotiations with Iran since a series of secret talks between the countries two years ago and then the election of moderate-leaning President Hassan Rouhani.
A US official told reporters on Monday that many of the trickiest issues involved in the negotiation remained unresolved. These have been described by others as the level of inspections Iran will grant International Atomic Energy Agency inspectors, how fast the US and its partners would lift sanctions on Iran, and the exact restrictions on Iranian research of advance nuclear technology.
Reuters and the Associated Press contributed to this report.