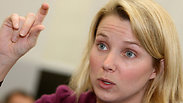 Yahoo CEO Marissa Mayer
Photo: AFP
In 2002 Marissa Mayer realized she had a problem. At that time she was already a senior product manager at Google and needed new product managers in the young, growing company. However, Mayer discovered that many experienced executives, who have been managing complex businesses, were not suitable for the job because they lacked the necessary technological knowhow and understanding.
This motivated Mayer into starting a super-exclusive program that trains the future generation of Google's product managers. Only the best talents were admitted to the program. Dubbed APM (Associate Product Manager), the Program soon became a great success. Its graduates filled the most central positions at the search giant while other founded successful startup companies in the Silicon Valley. The American media described APM as the "high tech rock star incubator", "the diamonds" or "Mayer's secret weapon".
In 2012, Mayer was named CEO of Yahoo, the internet mammoth, in attempt to bring it out of the crisis it was in. At the time, Yahoo suffered from a poor image of the sinking ship with many of its talented employees defecting to greener fields. Mayer was determined to attract young and fresh talents, so she established the APM at Yahoo too. Fernando Delgado, a senior product development director in Yahoo's headquarters and a Google APM graduate himself who moved from Google to Yahoo with Mayer, was appointed head of the Yahoo training program.
Last week, Delgado visited in Israel with the ten participants of the prestigious program. "When we joined Yahoo we realized we need to redefine the role of the product manager and recruit managers who fit the bill," Delgado said in an interview with Mamon. "A product manager needs in-depth technical understanding to win the trust of the engineers, but also managerial capabilities to lead them in the right direction."
Product management is one of the most important and intricate roles in a technological company, small or large. The product manager is responsible to leading the product development, be it an application, software or service, in keeping with the users' needs and the business goals. The product manager determines how the product will work, how it would look like and what it will be used for. To achieve all this, he or she needs to work with all corporate functions, most importantly with the technical engineers and teams.
Yahoo's APM is an accelerated training track and a talent incubator designed to nurture the future generation of executives. The candidates considered for the program are mostly the outstanding students of universities and colleges who have not yet accumulated significant work experience. The screening process is meticulous: only 10 were selected out of 3,000 applicants to the most recent cycle, following a long series of interviews and tests. The two-year training program takes the participants also through hands-on management positions at Yahoo. The graduates of the first class of 2013 already found their place in the various Yahoo services. While they are expected to remain at Yahoo for years after completing the program, no contractual commitment is required.
What are you looking for in the applicants?
Delgado: "We watch out for four key qualities: 1. Technical people with relevant degree such as computer science, who can write code and understand what software development involves; 2. analytical people who have the natural propensity for solving abstract problems; 3. people with intuition and natural feel for products who can, for example, analyze why one product fails where another succeeds and what distinguishes a good feature from a bad one; 4. and finally, good interpersonal communication capabilities."
Could you give us an example of questions you pose to the candidates during the screening process?
"Here's a question which is actually a task: 'you have a team of 10 engineers and you were assigned to re-launch the Yahoo Messenger service. What would you do?' the candidate has several seconds to think and answer. We do not expect a 'correct' answer; rather, we want to see which arguments they will use and what the underlying creative thinking is. Here is another example: 'what happens when you type Yahoo.com in the browser?' the purpose here is to ensure they know how the internet works technically behind the scenes."
The ten Yahoo APM participants gathered last week in the meeting room of Yahoo headquarters in Tel Aviv to listen or a series of lectures. They are young, 22-25 years old, but already touted as the future elites of Silicon Valley. They are a diverse group of Americans, Asians, Indians and Europeans. All of them completed their college degree. There are no Israeli participants in the program as yet.
The program's participants are now amidst a limited global tour of Yahoo's R&D centers. "They are visiting several countries which are different from the US market, in order to see how technology is used outside the USA and also to be inspired by other startups and investors," says Delgado.
The tour started in Yahoo's headquarters in Taiwan, continued to Beijing and just arrived in Israel. This is the first time the Program visits in Israel after the visit scheduled for last year was cancelled due to Operation Protective Edge.
Last week they visited the Technion, Jerusalem and Yahoo's offices in Haifa and Tel Aviv. "We are looking for places where the participants can learn new things and be inspired. The choice of Israel as a destination for the program is the biggest compliment we could ask for," says Yoelle Maarek who heads Yahoo's research laboratories in Haifa. "It is also related to the strong confidence that Marissa Mayer has in Israelis. She always believed we are special in some way."
Ido Yablonka, head of Yahoo's development center in Tel Aviv adds, "It is no small thing for a technology company such as Yahoo to conclude Haifa and Tel Aviv are the right places to train its future executive layer at."
You are collecting many talented, ambitious and competitive in one place. Does this lead to tensions and issues too?
Delgado: "I would be lying if I told you this never happens. These people are used to succeeding and being the best wherever they go. This is the first time they get to meet people of the same caliber, both on the program and in Yahoo. This is a 'reality shot' that helps them tone down their ego and learn to be more humble."