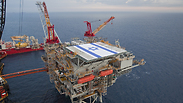 Israel plans to leave its biggest offshore natural gas project, Leviathan, in the hands of a US-Israeli consortium while opening the industry to more competition, under a proposal announced on Tuesday.
Prime Minister Benjamin Netanyahu had been adamant in seeking a deal that would allow Leviathan to be developed and sought a Knesset vote to let the state circumvent the antitrust authority, which has expressed opposition.
When some ministers said they would not support such a position, Netanyahu faced a coalition crisis and ultimately the vote was postponed due to lack of a majority.
Israel's Delek and Texas-based Noble Energy, which own a number of recently discovered gas fields that supply factories and Israel's electric company, will continue to own Israel's largest natural gas field, Leviathan, said Energy and Infrastructure Minister Yuval Steinitz at a press conference on Tuesday.
Leviathan, with estimated reserves of 22 trillion cubic feet (tcf), will take about 3-1/2 years to develop and is expected to supply billions of dollars of gas to Egypt and Jordan in addition to supplying Israel.
However, Delek - through its units Delek Drilling and Avner Oil Exploration - will have six years to sell its entire 31.3 percent stake in a second large field, Tamar, and Noble will have to trim its stake in Tamar to 25 percent from 36 percent.
The companies will also be forced to sell two smaller fields, Tanin and Karish, within 14 months.
Tamar, with reserves of about 10 tcf, began production in 2013 to supply the domestic market and is due to be expanded for export. Tanin and Karish hold a combined 3 tcf.
The government will set a price ceiling and the deal will remain unchanged for 10 years.
"The deal is good for Israel and its citizens," said Steinitz. "It is reasonable, but difficult for the energy companies."
On the issue of gas prices, Steinitz said the price of gas exports has been limited twice – both an internal limitation within the market, so the average forecasted price in Israel will be at the price ceiling of 5.5 dollars per unit, and the export price of the natural gas will not be cheaper than the domestic price.
"There is no price control, instead there is price limitations," Stienitz explained. "We are establishing a price ceiling for the next few years, and an additional element which ensures that domestic prices will always be lower than export prices."
Steinitz claimed that the companies "had to accept difficult terms, the most difficult provisions placed on any energy company in the west." According to him, "the current plan is hard on the energy companies because we place three restrictions on them which aren't enforced by any other state that produces gas: Export limitations, price limits, and ownership."
Steinitz said he was confident the companies would find buyers much sooner than the time allotted.
The minister added that as a result of the agreement, Israel will earn "around $100 billion, which will go to education, security, and welfare in the upcoming decades."
He warned that relying solely on the Tamar gas field for domestic energy production will lead to a "catastrophe to the market and nation," in the case of malfunction. "The price of gas in Israel is among the lowest in among the OECD states, and will stay among the lowest," Steinitz vowed.
Months of uncertainty regarding regulation over the issue of a gas monopoly have caused delays in the Leviathan project, which Steinitz criticized.
"The question that we need to ask is why delay. The fact that Israel's largest gas field – Leviathan – has had its development delayed for years is what needs to raise questions. Why has a gas field, discovered in 2010, not been developed? If we continue to delay the damage will be great."
"Israel's citizens will receive 70 percent, and the energy companies will receive 30 percent," Steinitz said.
Steinitz said he expected the government to approve the plan within a month. It was drawn up after Israel's antitrust regulator ruled in December that Noble and Delek constituted a monopoly.
Meanwhile, State Comptroller Yosef Shapira demanded on Tuesday that the government's decision on the gas plan will only be given after he releases an updated draft of his report on the issue later this week.
In a meeting with the Italian Foreign Minister Paulo Gentolini, Prime Minister Benjamin Netanyahu said the plan "breaks the current gas monopoly, and will stream hundreds of billions of shekels to the state's coffers, for welfare, health, education, and many other needs of Israel's citizens."
In his opening remarks to a Likud party meeting Monday, Netanyahu said, "If I were to implement a populist economic policy, we would be in the same situation as Greece ... This is the time to lead responsibly. We need to accept and accelerate the plan."
The agreement has become the focus of national debate with critics saying Netanyahu was putting big oil profits above what could be a windfall for the state and citizens hoping to lower energy prices. Netanyahu says the more pressing issue is to get the gas out of the ground and fast-track the development of Israel's natural resources.
Netanyahu's original plan to push the deal through swiftly last week was derailed when his economy minister, Aryeh Deri of Shas, declined to sign off on the agreement, citing monopoly concerns.
That in turn forced Netanyahu to go to the Knesset in order to give the government the required authorization to finalize the deal with Noble and Delek, which currently control a number of gas fields off Israel's shore. When this failed Netanyahu was left with little choice but to release the report to public.