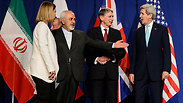 Lausanne talks (Photo:AP)
Photo: AP
US President Barack Obama said Tuesday that he was willing to walk away from nuclear negotiations with Iran if the deal on the table was a bad one, while Iran's President Hassan Rouhani threatened to resume halted nuclear work if world powers violate agreement.

"The framework agreement that was established at Lausanne is one that, if implemented effectively and codified properly, would, in fact, achieve my goal, which is Iran not obtaining a nuclear weapon," Obama said in reference to the provision drafted in Lausanne that would allow for inspections on Iranian military sites suspected of nuclear developments.

"There has been a lot of talk on the other side from the Iranian negotiators about whether, in fact, they can abide by some of the terms that came up in Lausanne. If they cannot, that's going to be a problem because I've said from the start, I will walk away from the negotiations if, in fact it's a bad dea," he said.

"If we can't provide assurances that the pathways for Iran obtaining a nuclear weapon are closed and if we can't verify that, if the inspections regime, verifications regime, is inadequate, then we're not going to get a deal and we've been very clear to the Iranian government about that," the US president added.

Obama touched on Iran's history of ignoring inspections by the UN's International Atomic Energy Agency (IAEA), saying, "Given past behavior on the part of Iran, that can't simply be a declaration by Iran and a few inspectors wandering around every once in a while. That's going to have to be a serious, rigorous verification mechanism. And that, I think, is going to be the test as to whether we get a deal or not."

Obama's remarks were likely to be seen as a response to Iran's Supreme Leader Ayatollah Ali Khamenei, who last week seemed to place a hurdle in front of the talks by ruling out either a long freeze of sensitive nuclear work or opening military sites to inspectors.

President Rouhani, a pragmatist elected two years ago on promises to reduce Iran's international isolation, said on Tuesday Tehran would resume halted nuclear work immediately if the powers failed to keep their promises under any accord.

"If we reach a deal, both sides should be committed to it," Rouhani said in Tehran, IRNA reported.

"If the other side breaches the deal, we will go back to the old path, stronger than what they can imagine."
IAEA: Iran reduced low-enriched uranium stockpile
In a positive sign for the talks, Western diplomats said IAEA was expected to report next month that Iran had complied with a preliminary deal to reduce its low-enriched uranium stockpile.
An IAEA report in May said the stockpile had increased above the required level, but Tehran met a June 30 deadline to reduce it, the diplomats said on condition of anonymity.
US State Department spokeswoman Marie Harf said the sides had agreed to extend the preliminary agreement "until July 7 to allow more time for negotiations to reach a long-term solution".
German Foreign Minister Frank-Walter Steinmeier, in an interview with Iranian state news agency IRNA, said there were difficult issues to work out but outlined the benefits Iran could enjoy if a long-term agreement is reached in Vienna.
"We have offered to suspend all economic and financial sanctions in the first phase," he was quoted as saying. "Experts estimate that lifting the sanctions will lead to economic growth of five to seven percent."
Iranian media said it was the first interview Iranian state media had with a German government minister since the 1979 Islamic Revolution.
For more than a week, the sides have been working into the night trying to break an impasse in talks they feel have never been closer to success.
Diplomats have said the real deadline is not June 30 but July 9, the latest the deal can be presented to the US Congress to limit to 30 days a mandatory review period before Obama can begin suspending sanctions. After that, the review would last 60 days, with growing risks a deal could unravel.
The main differences are on the pace and timing of sanctions relief for Iran and on the nature of monitoring mechanisms.
"There are real and tough issues that remain which have to be resolved in order to get the comprehensive agreement, and we still do not know yet whether we will be able to get there," a senior US administration official told reporters on Monday.
A big sticking point is Western demands that UN inspectors have access to Iranian military sites and nuclear scientists.
Western diplomats say they are nearing a resolution, although Iranian officials maintain that access to military sites is a red line set by Khamenei.
Reuters and the Associated Press contributed to this report.