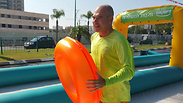 Hundreds of Israeli families flocked to Petah Tikvah on Wednesday to mark the beginning of summer vacation from school in a water celebration characterized by a massive water slide stretching 300 meters down Derech HaRav Moshe Malka Street.

Petah Tikvah residents as well as visitors from outside the city came to slide down 300 meters of fun. The slide was spread out on the street overnight on Tuesday.

The idea for the event came from Petah Tikvah Mayor Itzik Braverman who witnessed similar water events in the United States. Braverman approached several promoters who helped organize the slide.

The participants, mostly teenagers and children, came prepared with inter-tubes, and plastic mattresses. It was estimated that some 300 cubic meters of water flowed down the slide Wednesday.