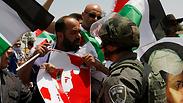 Photo: Reuters
Photo: Reuters
Hundreds participated in a procession Thursday afternoon in the neighborhood of Shuafat chanting, "We want a new Intifada," to mark the anniversary of the murder of Mohammed Abu Khdeir at the hands of Israelis motivated by revenge after three Israeli teens were kidnapped and murdered by Hamas operatives.

Some of the Palestinians threw rocks at Jerusalem's light rail in three separate incidents. No injuries were reported but light damage was caused to a train trailer. Besides these two cases, there were no reports of violence or conflict with Israeli police who maintained a significant presence at the entrance to the neighborhood.

Riot police brought water cannons and an observatory balloon to capture video of events on the ground.

Hussein Abu Khdeir, father of the slain teenager, said at the procession, "We still hurt from what they did to my son; it's hard for us to forget this shocking incident. The State should serve the murderers with the most severe punishment. They can't be among people. Sadly, despite the murder, we're still seeing racism and the State doesn't do anything. It cheers on the racists and continues their criminal acts."

Before the procession began, Hussein told Ynet that he was against any violent actions to mark the anniversary. "We will have a ceremony in Mohammed's memory in Shuafat today. I'm not interested in clashes and don't believe there will be any. I told people I didn't want trouble, just a dignified ceremony with dignified people."

The brutal murder, in which Abu Khdeir was burned alive soon after three Israeli teens were kidnapped and murdered by Hamas operatives, led to rioting in East Jerusalem, the West Bank and among Israeli Arabs.