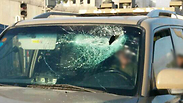 An IDF spokesperson confirmed on Friday morning that a Palestinian had been shot near al-Ram in the West Bank after throwing rocks at a military jeep carrying Brigade Commander Israel Shomer, and Palestinian sources said the 17-year-old perpetrator died of his wounds at a hospital in Ramallah.

According to the IDF, the military jeep sustained damage, but it did not seem that any in the Israeli force were wounded in the incident. The Palestinian was identified as Mohammed Sami al-Ksbeh. The hospital official said Ksbeh had been shot in the head and chest.

Palestinian medical sources presented a different story to that of the Israelis, claiming that Ksbeh was shot trying to climb the dividing wall that encircles the West Bank in an attempt to reach Jerusalem to pray at the Temple Mount on the third Friday of Ramadan.

Additionally, they said that Ksbeh received no medical attention from Israelis in the field before being brought to the hospital.

Ma'an News Agency in the West Bank reported that Ksbeh's two brothers were also killed in March, 2002.

Photos from the scene showed the windshield of the military vehicle smashed in, apparently from the rock attack.

Meanwhile, security forces arrested dozens of alleged Hamas operatives across the West Bank overnight between Thursday and Friday. Hamas accused the Palestinian Authority of carrying out the arrests because of Israel's accusations that the Gaza group was behind a recent up-tick in attacks in the West Bank.

The Palestinian Authority confirmed the accusations, saying over 100 Hamas members were arrested in the West Bank who were planning on carrying out attacks, making it the biggest raid of its kind in years.

Spokesman for Palestinian security, Adnan Dameri said "We will not let Hamas undermine our security and draw our country to bloodshed, we will not let Hamas carry out attacks in the West Bank."

On Wednesday, The Shin Bet security service said it had, uncovered over the last few months a large Hamas cell active in the city of Nablus and surrounding towns. Around 40 people were arrested, including senior Hamas members who have been jailed repeatedly.